Warehouse management software features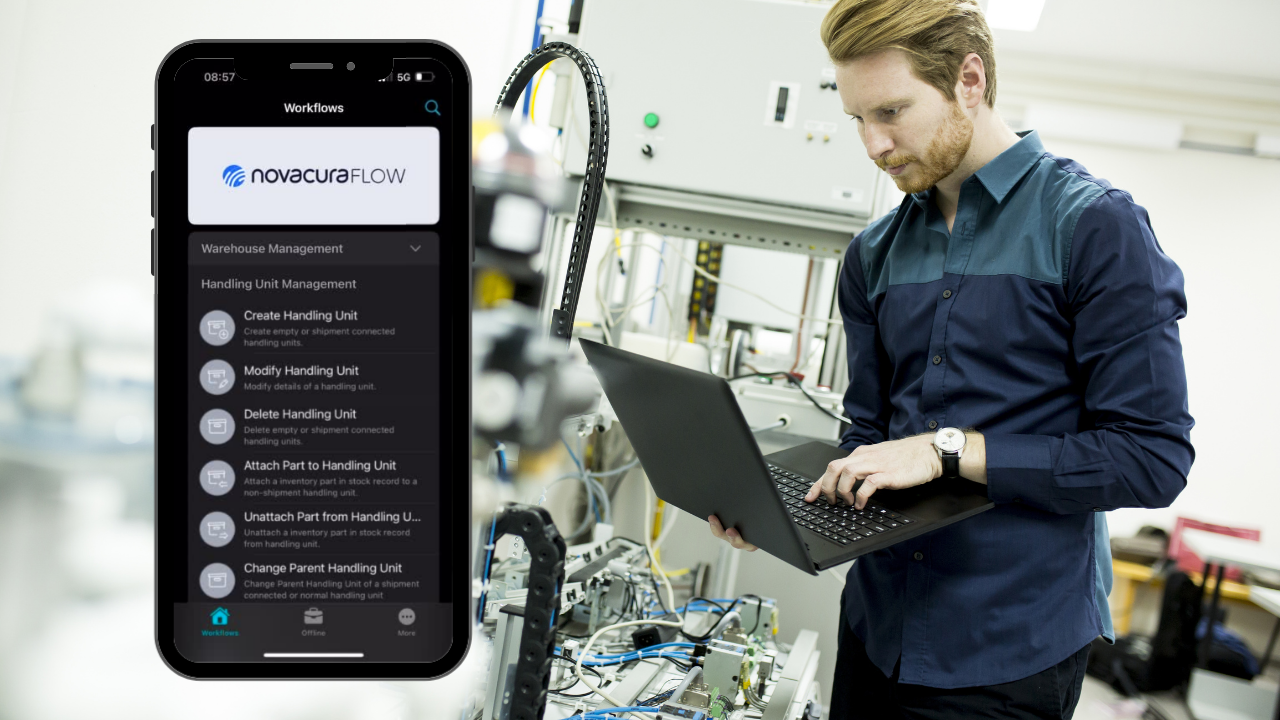 Acknowledging ongoing business activities in the warehouse has the most significant impact on revenue generation and is critical to the company's productivity. A company should know which WMS software functions impact productivity most. The complexity of business factors should be considered in terms of many technical aspects, such as the scope of daily activities, the degree of staff involvement required, inventory lifecycle costs, and supply chain coordination. 
The warehouse managers will address many strategical questions regarding the scope of WMS software. These will concern to the best suited solution dedicated to warehouse operations, regardless of industry or integration with a distribution or manufacturing facility, and should refer to certain WMS features. WMS functions are closely linked to internal processes.
Key elements of the WMS system
The technical aspects of the warehouse management system capabilities are built on the basis of three main components:
Software: a digital system that operates on the basis of ERP data exchange, allowing the ERP to be extended with an additional transaction and providing remote control via dedicated applications for mobile and desktop devices.

Radio communication devices: mobile devices throughout the warehouse require a wireless network system for communication between servers and the ERP system. 

Barcode system: the WMS software runs on RFID scanners with a barcode/QR reading function. This is the basic element of data collection, and all handling unit operations will depend on it to provide continuous data to the system.
Key features of the warehouse management system
The general criteria for selecting WMS software identifies several key elements that require digitizing warehouse operations. The Warehouse Management System functionality includes those areas that should be covered by the software along with its features:
Receiving: recording incoming goods in documents using mobile scanners based on the WMS application.
Putaway:

 assigning incoming goods to inventory throughout the warehouse using WMS-based mobile devices.

Replenishment:

 moving goods from higher racks to lower racks, moving aging inventory using WMS mobile applications used on mobile devices.

Order Picking/packing:

 picking orders using mobile devices based on WMS applications to plan to pick paths to shorten processes.

Voice picking:

 integrating a voice system with WMS and ERP to allow for hands-free order picking.

Labeling system:

 integration of a printing equipment system with WMS and mobile devices.

Value Added Service (VAS):

 equipping VAS packing lines with handheld scanners and WMS-based desktop applications to track material entered.

Shipping:

 handling outbound shipments with WMS-based mobile applications for accurate shipment processing and fast loading.
Internal movements: WMS software provides, via desktop and mobile apps, the ability to control inventory with allocations/relocations and support for inventory aging management, etc.
Cycle counting:

 staff can perform periodic inventory counting based on WMS mobile applications installed on mobile devices.

Storage system:

WMS software provides support for a pallet storage system, rack labeling system, and merchandise classification, which allows immediate allocation of goods to required areas.

Inventory control:

 inventory controllers are supported by WMS-based mobile applications to immediately resolve inventory discrepancies. 

Hazardous goods management:

 users can be alerted by the WMS that they are dealing with DGR goods because they require proper storage, often in refrigerators or isolated high-security areas.

Fast-moving consumer goods (FMCG):

 the WMS can manage temperature-sensitive goods and those with special storage requirements.
Scheduling of personnel shifts: the WMS allows the scheduling of shifts with an assessment of the required equipment needed to perform specific tasks.
Managing working hours:

 managers and supervisors using WMS-based software can track the exact hours assigned to perform specific tasks in the warehouse.

Certificates management:

 the WMS software allows tracking of periodically updated licenses and personnel certifications for warehouse equipment such as lift trucks, forklifts, combi trucks, etc.

Management of working conditions:

 

WMS software can provide a system for recognizing the working conditions in specific warehouse areas and notifying personnel of any hazards or requirements.
Return packaging management: the WMS software supports a labeling system and allows tracking the packing cycle of return packaging, excluding damaged boxes from the process, etc.
Return Merchandise System (RMA system):

the WMS handles returned goods that require quality assessment before entering the warehouse (WMS should allow to implement additional quality control transactions than these available from ERP).
KPI management: the WMS allows all data to be pulled from all departments and provides a transparent and adjustable overview that helps managers control overall processes.
Reporting:

 using the built-in functions of the WMS, managers and office administrators can create weekly reports to track current processes.

Forecasting:

 based on the WMS software, staff can create reports to predict certain events in the warehouse and avoid process disruptions.
Shipping system:

WMS allows tracking shipments from door to the warehouse and opposite based on POD function.

Communication with carriers through the EDI system:

WMS software allows you to connect with third-party carriers' transportation management systems (TMS), update shipment data, etc.
Invoicing system: based on the WMS system, all departments can collect all financial data. External third parties can send invoices to the internal systems.
Connecting existing systems: WMS software can integrate all systems across the organization to pull required data from all departments (such as the TMS, reporting and financial systems, operational processes, etc.).

ERP integrations:

 WMS software should be linked to the ERP system as an additional layer to increase the number of transactions to give personnel throughout the organization direct insight into current operations.
Autonomy, flexibility, and operating training program
Easy interface:

WMS mobile applications can provide ease of use and reduce training time by simplifying the user interface on a mobile device for the operations staff member.

Autonomous warehouse:

WMS software allows internal staff to build their own system applications without external support.

Flexibility: WMS software can provide BPM-based functionality that allow add new system transactions and maintain the on-fly operational changes.
Novacura offers WMS solutions built on top of an ERP system. Novacura Flow is a software that allows to create own business processes (BPM), mobile and desktop applications that can exchange data with ERP system in real time. It provides WMS functionality covering essential warehouse management functions and department operations.
The example presented above explains how users can use Novacura Flow, with access to Novacura Flow Studio, environment for developing applications for internal operational needs in warehouses.  
Here are the main benefits of a WMS built on Novacura Flow software:
Reduced costs:

Novacura Flow allows you to develop your operational applications without extensive and costly third-party software support.

Zero information errors:

eliminate information errors and increase inventory accuracy.

Reduced information acquisition time:

 reducing the time and effort required to collect and process inventory and customer order data.

Increased warehouse capacity:

 increase warehouse capacity by allowing products to flow through the warehouse faster.

Optimized space utilization:

 updating information for warehouse workers on where to put products in each location based on known dimensions

Increased labour productivity:

increase labour productivity by directing the warehouse worker's tasks and scheduling work time accordingly.

Minimized warehouse losses:

 reduced inventory discrepancies and better control over warehouse demand.

Integration with ERP: Novacura Flow helps to integrate all internal systems with ERP based on APIs and IoT connectors for machines to retrieve more operational data from the shop floor once the warehouse is connected to the manufacturing plant.
Novacura Flow characterizes significant features for WMS recognized by Gartner. Gartner says what WMS system features matter and Novacura Flow-based WMS capabilities fit into Gartner's Magic Quadrant concept, which is an analytical technique that classifies the best-fit WMS software for business requirements. 
Customer case
Learn more about WMS implementation from Novacura in an US food industry, at Land O'Frost company.

Novacura has been supporting businesses in various industries for almost 20 years. We help our customers streamline processes and increase operability with WMS features in their warehouses. Our solution can give your business a significant return on investment (ROI), mainly regarding third-party programming support or allocating labour hours for operational processes. Contact us today and see what we can do for your company.