..
SOLUTIONS FOR THE PROJECT LIFECYCLE
Project Management for Constructions
Organize complex projects in engineering, construction or infrastructure development with management solutions.
High-quality developments project involves substantial construction cost savings for the contractor as well as beneficial use for the owner. Take control over manpower, required machinery, materials, work methods and financial resources with mobile solutions that allow you to achieve successful results in your construction projects.
Benefits of our solution
:
01:
Project control
With Novacura Flow you can take control of your project delivery process. Automate data transfer, get an instant and accurate overview of the ongoing project and give the people throughout your organization simple tools for their daily routines. And Novacura Flow works wherever you are, whether you're in the Norwegian fjords, the African desert or the middle of New York City.
02:
Better collaboration
Leverage the data in all your systems to create workflows, dashboards and reports that give you a clear and accurate overview of all your projects, in real-time—and then act on that data by building powerful workflows.
03:
Comply with regulations
Make sure all your workers are following protocols—and documenting their progress—with steered workflows, photo uploads, interactive forms and more.
04:
Ensure worker safety
Create custom processes to ensure your workers are always safe on the job. Collect and store the required information, and easily adjust your processes when regulations change.
05:
Collect offline data
Novacura Flow works on any device, in all conditions: whether you're working in the middle of the city or the middle of the ocean. You'll never lose data because of a poor WiFi signal.
Project planning
Forecasting for advanced construction projects in network management. Defining the Critical Path Method (CPM) with effective planning and management of construction projects. Overseeing project phases, managing manpower, professional machinery and equipment, materials, methods, services and handling financial resources. Novacura Flow helps manage Turnkey and Build-Operate-Transfer (BOT) contracts to successfully finalize long- and short-term projects (snapshot on the right - project location planner and overview on desktop applicaiton).
Project expenses reporting
Create project cost system and oversee project billing in Novacura Flow system. Ensure proper cash flow and expense management across departments and subcontractors to keep labor and materials under control. Create invoices and control payroll in an integrated system. Estimate the value of the project using Work Breakdown Structure (WBS) and manage expenses related to cost-plus-pay contracts inside the system. Ensure that cost-plus contracts do not exceed your financial capacity. Efficiently calculate return on investment (snapshot on the left - expenses overview displayed on desktop and mobile device).
Project monitoring and inspections (mobile checklists)
Work with Novacura's mobile applications for pre-job planning and ongoing maintenance. Ensure required project team procedures are in place and all instrumental phases are coordinated with the check-off system. Use mobile Novacura ready-to-use solution as punch lists, projects wizards, checklists and evaluate alternatives to take corrective action if necessary. Novacura Flow helps you monitor your work to quickly detect any deviations and avoid additional costs. Control compliance and performance criteria for time control and job classification (snapshot on the right - mobile punch list: "photo with wall installation element and checklist".) .
Documentation management
Novacura Flow is a system for comprehensive documentation management. Construction certificates, tender documents, invoices, inspection forms and contracts in one place. Ensure that time-sensitive documents, such as labor and material cost documents, are always updated and made available in a timely manner to relevant departments and external companies. Extract all data at any time and provide mobile document management with Novacura Flow digital records management system. Create invoices and PODs using mobile apps (snapshot on the left - project documentation displayed on the app).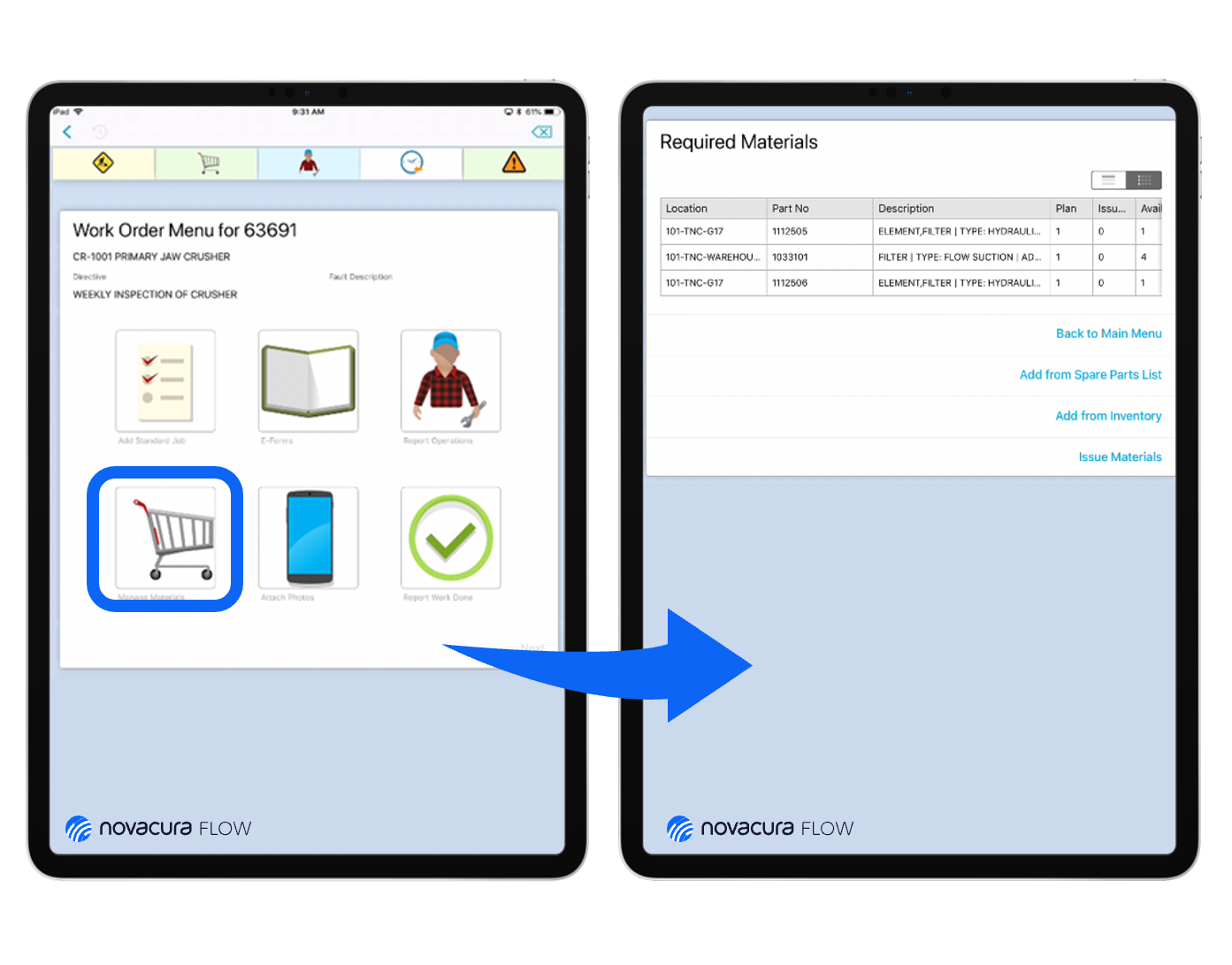 Mobile work orders / Offline mode
Novacura Application Marketplace provides Mobile work orders application for managing operational employers with mobile assignment. With the Novacura Flow mobile app, you can increase productivity. Let your employees work more proactively and adjust work methods so that teams can perform activities more concurrently rather than in series. Save time and reduce costs associated with time-consuming manual operations. Work offline and update the system after tasks are completed (Mobile work orders snapshots on the right).
Crew management / Work task assignment
Automate project management tasks for the construction workforce and equipment. Organize work coordination with Novacura Flow to evaluate individual tasks. Efficiently manage work changes to minimize conflicts and unexpected requests. Control project progress and workforce productivity with well-planned work assignments within Worksite Field Reporting mobile app. Novacura Flow helps you maintain safety and quality, and consequently control work time. Reduce time-consuming activities in all operations (snapshot on the left - detailed workforce planning scheduled in desktop application).
Subcontractor management
Key project equipment and materials must be organized in a timely manner between the prime contractor and subcontractors. This involves efficient procurement and construction management operations that are necessary to close orders, expediting and final delivery between subcontractors. Novacura Flow helps control supply requirements and manage the external resources required to complete the entire project. Our Supplier Portal allows you to maintain control over the entire project (snapshot on the right - carriers schedule on the desktop in Supplier Portal).
Building maintenance management
Create a complete equipment management and building maintenance planning system with Novacura Flow. Perform maintenance on installed inventory and perform routine equipment management tasks in the field with Novacura's mobile apps. Prevent critical components from failing at the end of a project with daily inspection sequences available on mobile devices. Work offline when network access is limited. Schedule downtime with repair services to make sure facilities are up and running as contracted (snapshot on the left - maintenance area scheduled from desktop application to the mobile device app).
Mobile assets management
Complete mobile building and facilities management (FM) within single app.

Identifying, coordinating, monitoring, auditing and diagnosing the quality and quantity of installed equipment.

Preventing wrong installations and process / procedures control in work environment.
Construction site management
Redefining building operating costs through mobile planning and progress measurement.

Mobile adaptation of building and engineering services during and after completion of construction.

Real-time tracking of repairs, refurbishment or replacement requested and managed in a mobile app.
Mobile time reporting
Mobile reporting of field hours and project time planning.
Comprehensive crew management with assignment of tasks and projects.
Quick, mobile data exchange with central ERP system, etc.
Worksite Field Reporting
Worksite Field Reporting is an app collection that caters to a wide range of users like Crew Owners, Supervisors, and Crew Members enabling them to report, analyze, collaborate in real-time. The app include: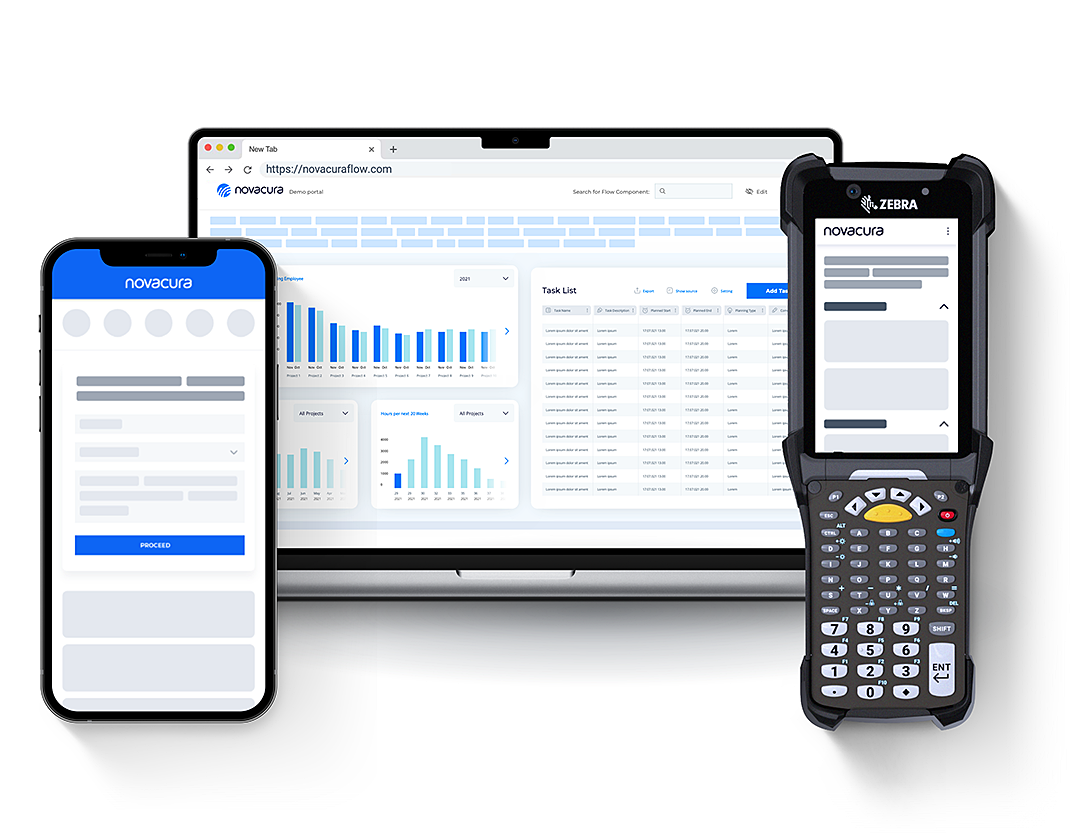 Interface optimized for thousands of operations per day
Our applications run on a sophisticated software platform – Novacura Flow. One of the key foundations of this platform is to run on every device – from barcode scanners, via mobile phones and tablets, to desktop workstations equipped with large screens.
But we are not just another SaaS software that offers that. We have optimized our user interface for users that work on a shop floor, in a warehouse, or in the field. We know that every "click" matters for these people because they run 1000+ operations a day!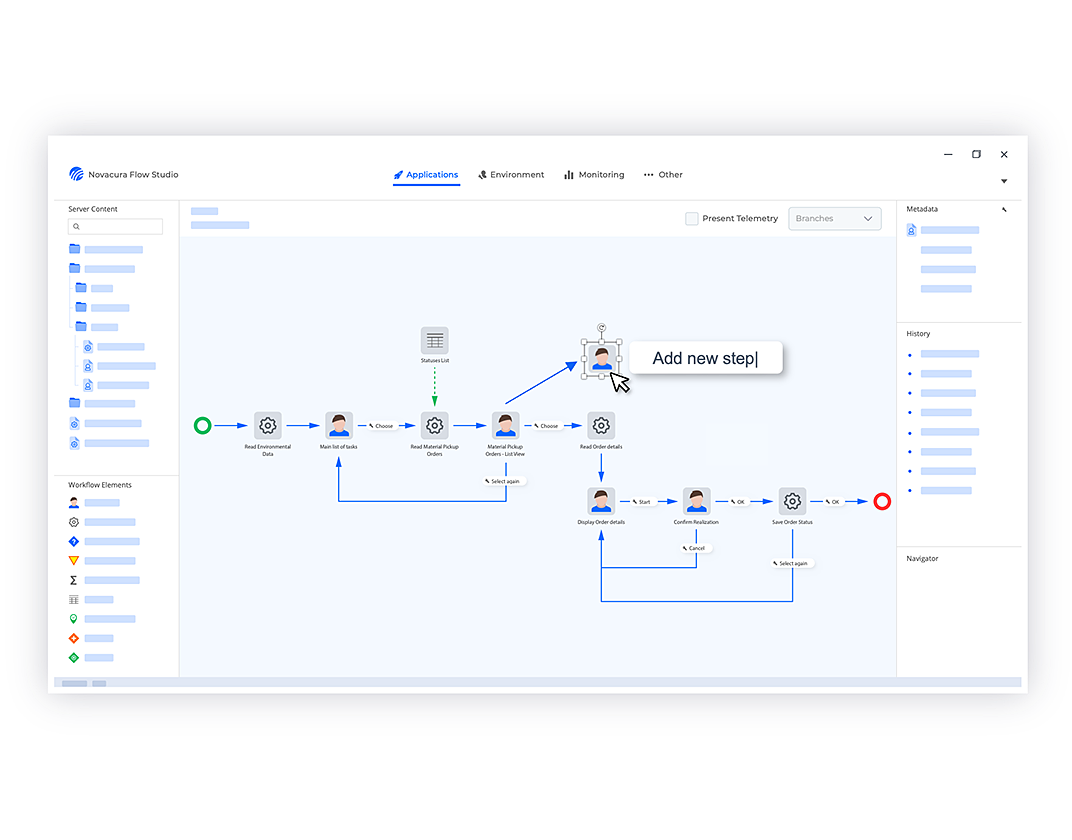 Ready for changes thanks to its low-code core!
Every company is different from the other. You might have specific processes and require unique features and we are ready for that! We created our applications for project management in construction or engineering operations with our low-code platform.
Our applications are not hard-coded so our customers can modify them or clone them and create variants. And they can build their own applications. And thanks to the low-code engine they can create applications by drawing them like they draw a business process.
Integration with ERP. Deep integration!
Our low-code platform Novacura Flow and industry applications can play a vital role in project management for construction or engineering companies. But we don't forget about the ERP!
We treat the ERP system as a primary system – all master data, operations and reported information are stored there. And everything that users do in Flow is immediately visible in the ERP! It is possible because our platform has specialized online connectors to ERP systems. You can think about Novacura Flow as an alternative, mobile and efficient user interface for your ERP.  Thus, you can easily adopt Novacura Flow without changing surrounding processes which can still run in your ERP!