SOLUTIONS FOR THE PROJECT LIFECYCLE
Project Management for Constructions
Organize complex projects in engineering, construction or infrastructure development with management solutions.
Take control of the entire project cycle, from initial bids through plans to ongoing maintenance and workforce dispositions.
01:
Project control
With Novacura Flow you can take control of your project delivery process. Automate data transfer, get an instant and accurate overview of the ongoing project and give the people throughout your organization simple tools for their daily routines. And Novacura Flow works wherever you are, whether you're in the Norwegian fjords, the African desert or the middle of New York City.
02:
Better collaboration
Leverage the data in all your systems to create workflows, dashboards and reports that give you a clear and accurate overview of all your projects, in real-time—and then act on that data by building powerful workflows.
03:
Comply with regulations
Make sure all your workers are following protocols—and documenting their progress—with steered workflows, photo uploads, interactive forms and more.
04:
Ensure worker safety
Create custom processes to ensure your workers are always safe on the job. Collect and store the required information, and easily adjust your processes when regulations change.
05:
Collect offline data
Novacura Flow works on any device, in all conditions: whether you're working in the middle of the city or the middle of the ocean. You'll never lose data because of a poor WiFi signal.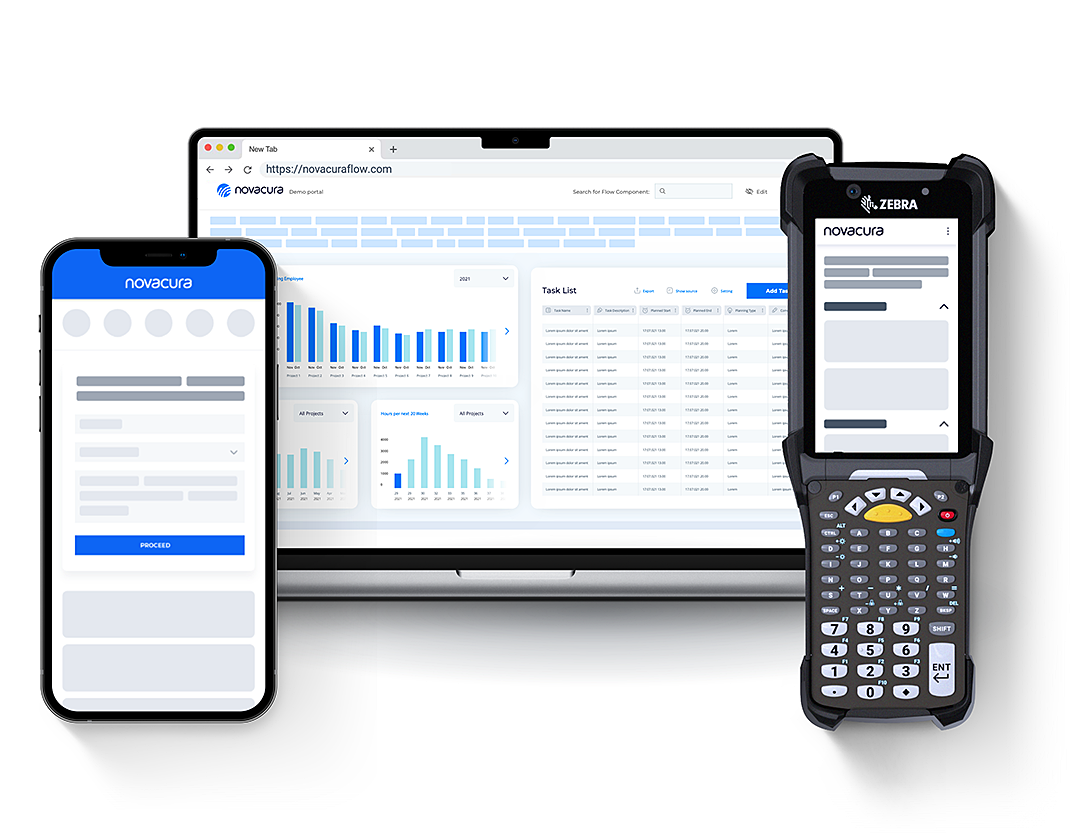 Interface optimized for thousands of operations per day
Our applications run on a sophisticated software platform – Novacura Flow. One of the key foundations of this platform is to run on every device – from barcode scanners, via mobile phones and tablets, to desktop workstations equipped with large screens.
But we are not just another SaaS software that offers that. We have optimized our user interface for users that work on a shop floor, in a warehouse, or in the field. We know that every "click" matters for these people because they run 1000+ operations a day!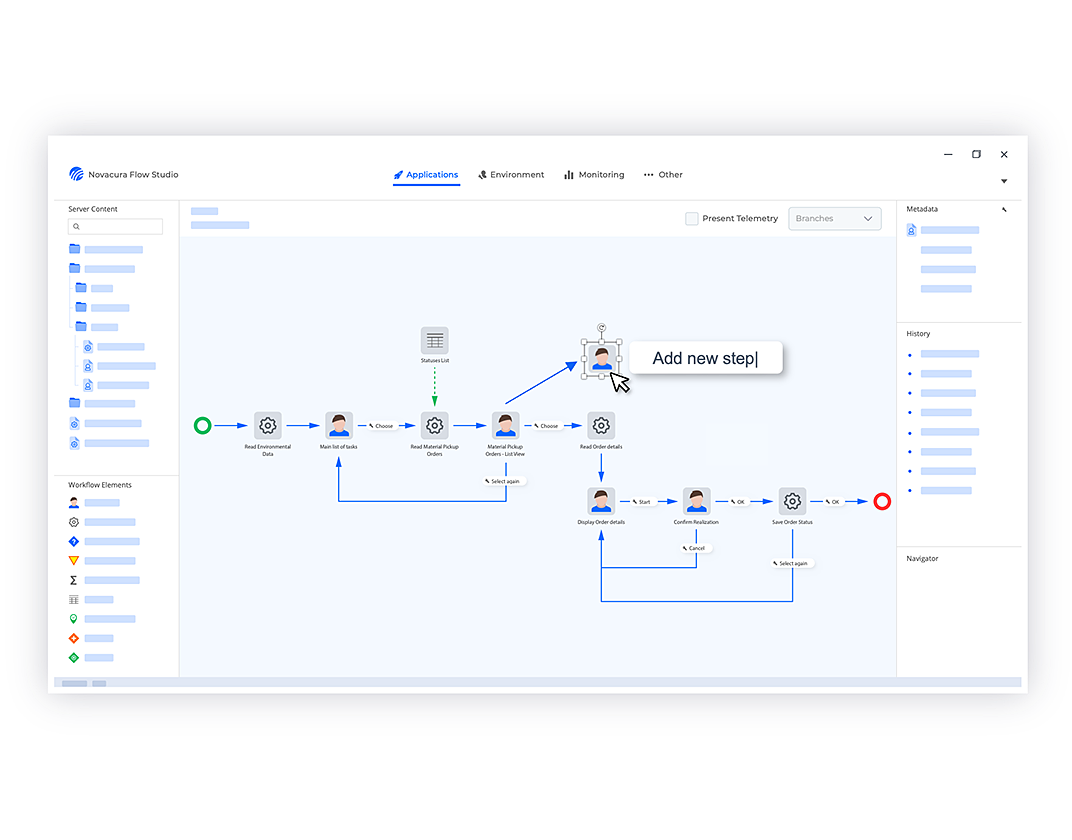 Ready for changes thanks to its low-code core!
Every company is different from the other. You might have specific processes and require unique features and we are ready for that! We created our applications for project management in construction or engineering operations with our low-code platform.
Our applications are not hard-coded so our customers can modify them or clone them and create variants. And they can build their own applications. And thanks to the low-code engine they can create applications by drawing them like they draw a business process.
Integration with ERP. Deep integration!
Our low-code platform Novacura Flow and industry applications can play a vital role in project management for construction or engineering companies. But we don't forget about the ERP!
We treat the ERP system as a primary system – all master data, operations and reported information are stored there. And everything that users do in Flow is immediately visible in the ERP! It is possible because our platform has specialized online connectors to ERP systems. You can think about Novacura Flow as an alternative, mobile and efficient user interface for your ERP.  Thus, you can easily adopt Novacura Flow without changing surrounding processes which can still run in your ERP!