..
NOVACURA FLOW FOR THE ENERGY INDUSTRY
INTEGRATE YOUR SYSTEMS AND MAINTAIN MOBILITY
Improve your maintenance with comprehensive field service management.
Novacuras applications provide real-time monitoring. Field personnel can perform service and diagnostics, both online and offline.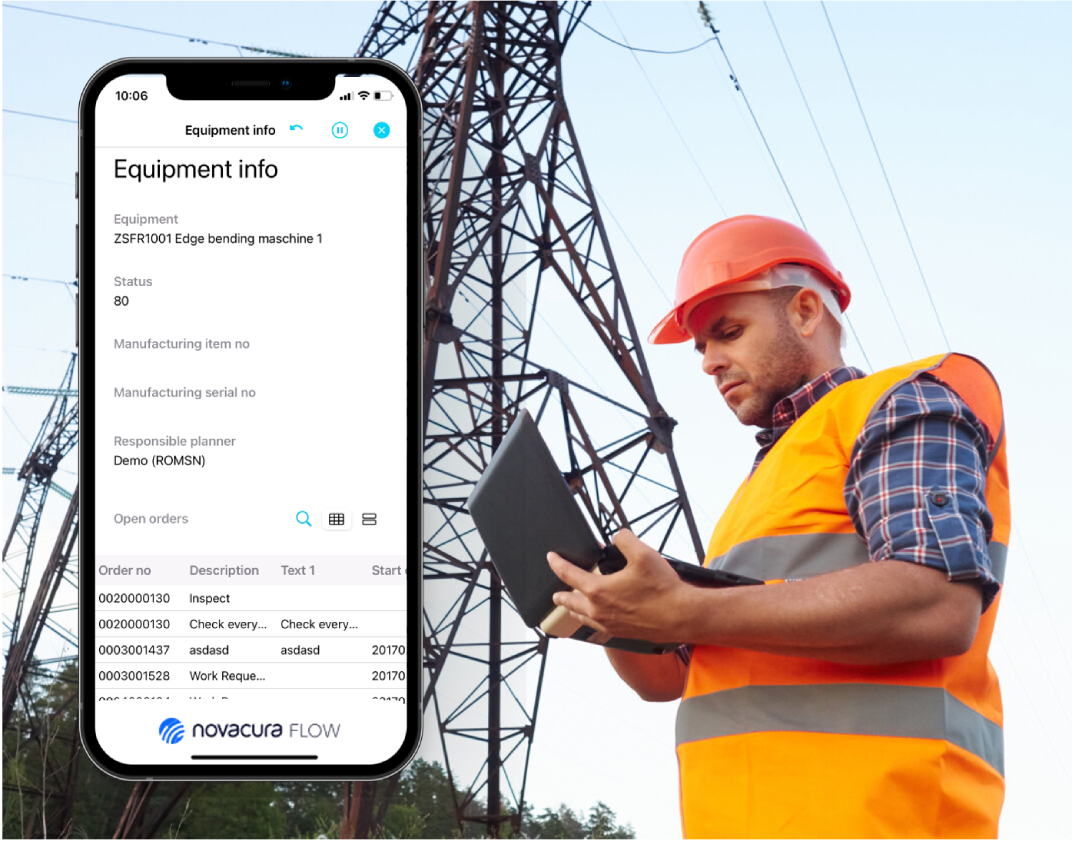 Become safe, mobile and connected
In the energy sector, it´s vital to protect your big investments. All the way from heat and power production to distribution and consumption, Novacura Flow can play a part. We have integrated with all these parts at different customers and provided tools to improve mobility, collaboration and overall automation.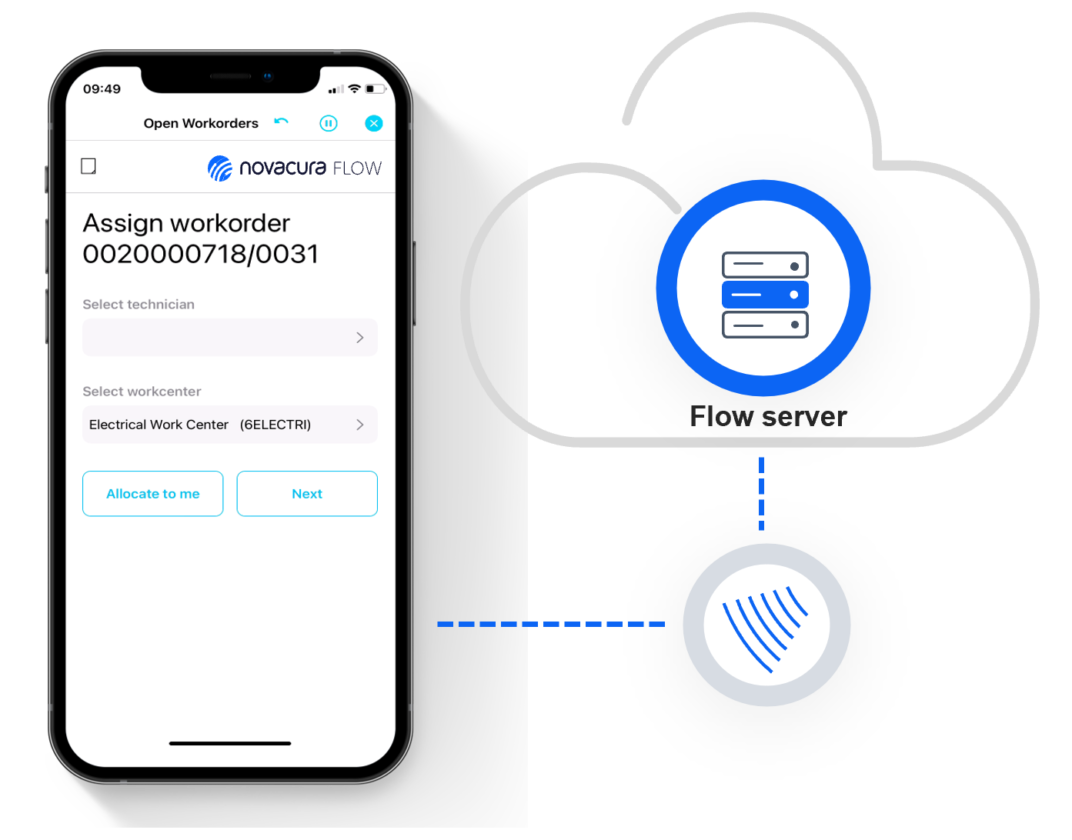 Integrate your systems and stay mobile in the field
Novacura Flow's field service mobile applications allow working entirely remotely. Data exchange with all devices and users connected to the cloud-based network increases the efficiency of performed repairs. Novacura provides software for many types of ERP systems and multilayer solutions.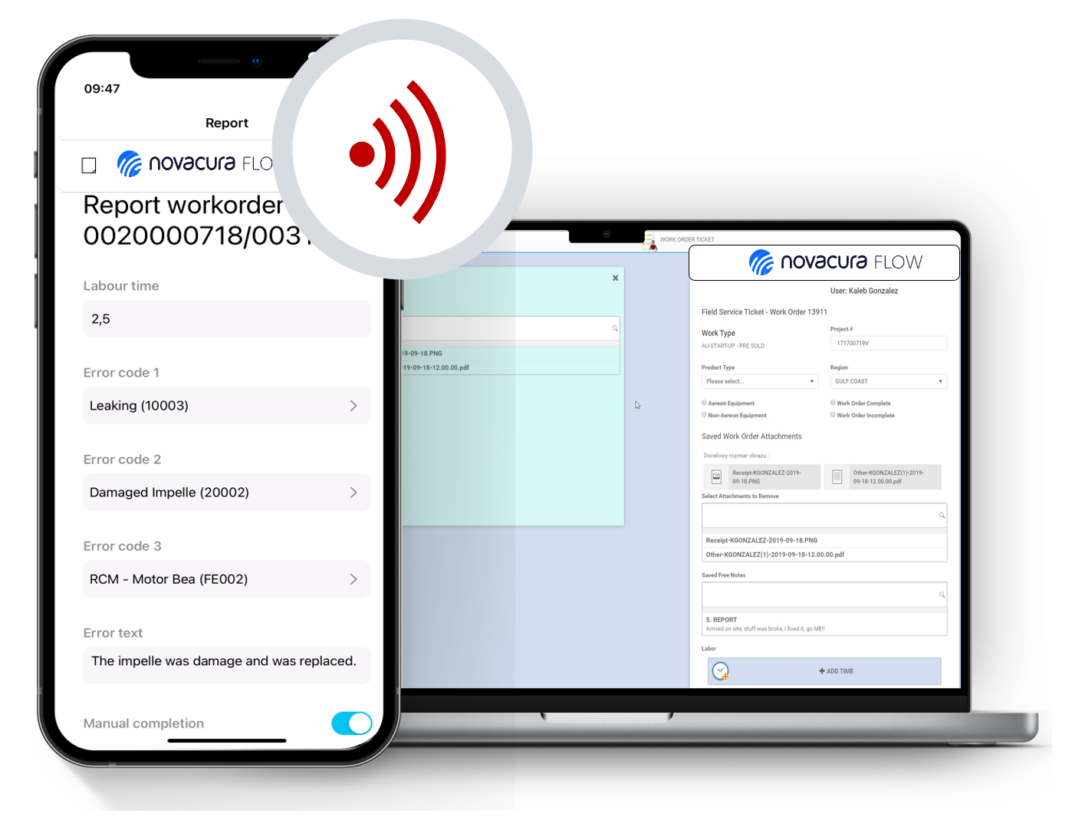 We support the entire energy lifecycle
Mobile apps for work order handling, making sure field personnel always updates systems with correct data.
Portals creating a better interface for work order planning, purchasing and back-office administration
Offline capabilities and connecting to best-of-breed systems to make sure that you are aligned with current demands.
Improve your field operations
:
01:
Increased mobility
It´s mandatory to maintain the operation and be able to handle work in the field in any energy organization. We´ve made sure that the field-service personnel has all necessary mobile access and any tools needed to operate in the field. Work order handling, checklists, meter changes, and warehouse management are just some areas we cover.
02:
Better collaboration
Scheduling and collaborating are what gives efficiency. A close connection between leaders, planners and the field-personnel is best accomplished through portals where you can handle more data and get an overall view of the workload, resources and geographical spread of your work.
03:
Maintained safety
A major key in energy is, of course, safety. Our solutions have played a crucial part in making sure safety is maintained at a high level throughout your processes. Connect Flow to your ERP system to gain visibility of which safety measures need to be done and also keep the system updated. Electricity safety leader processes and other supporting solutions have been created to make sure that Novacura supports your demands.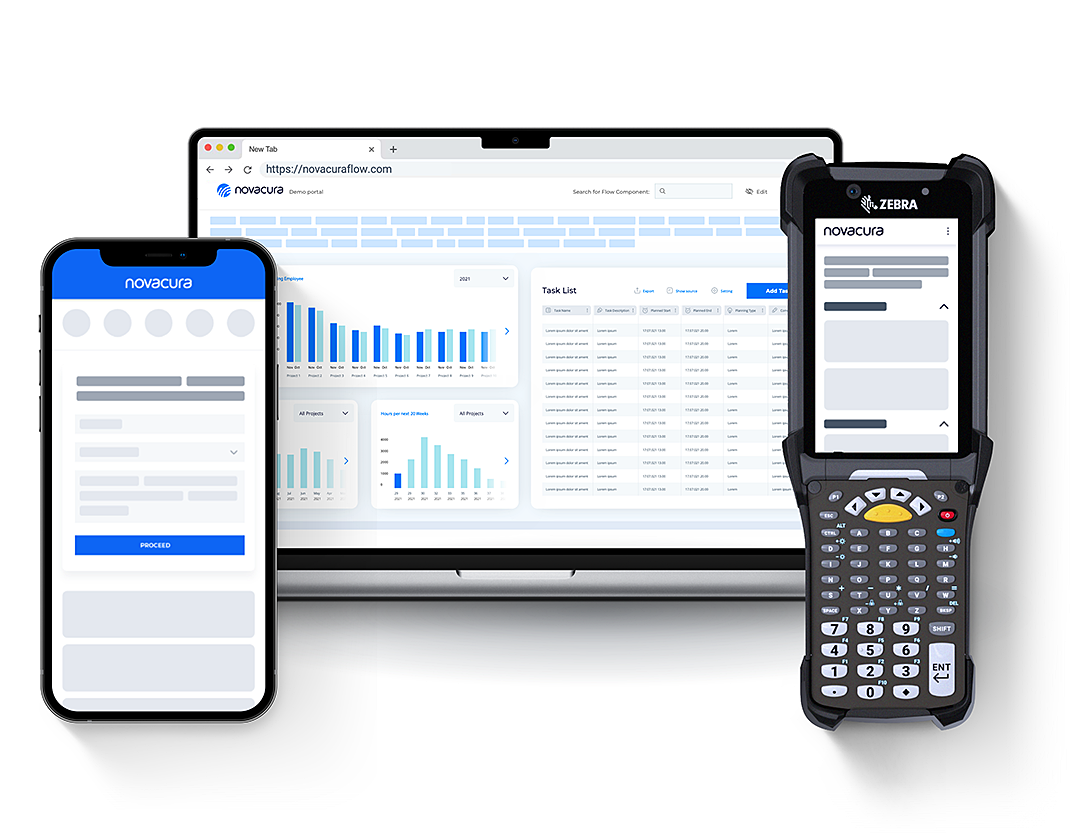 Interface optimized for thousands of operations per day
Our applications run on a sophisticated software platform – Novacura Flow. One of the key foundations of this platform is to run on every device – from barcode scanners, via mobile phones and tablets, to desktop workstations equipped with large screens.
But we are not just another SaaS software that offers that. We have optimized our user interface for users that work on a shop floor, in a warehouse, or in the field. We know that every "click" matters for these people because they run 1000+ operations a day!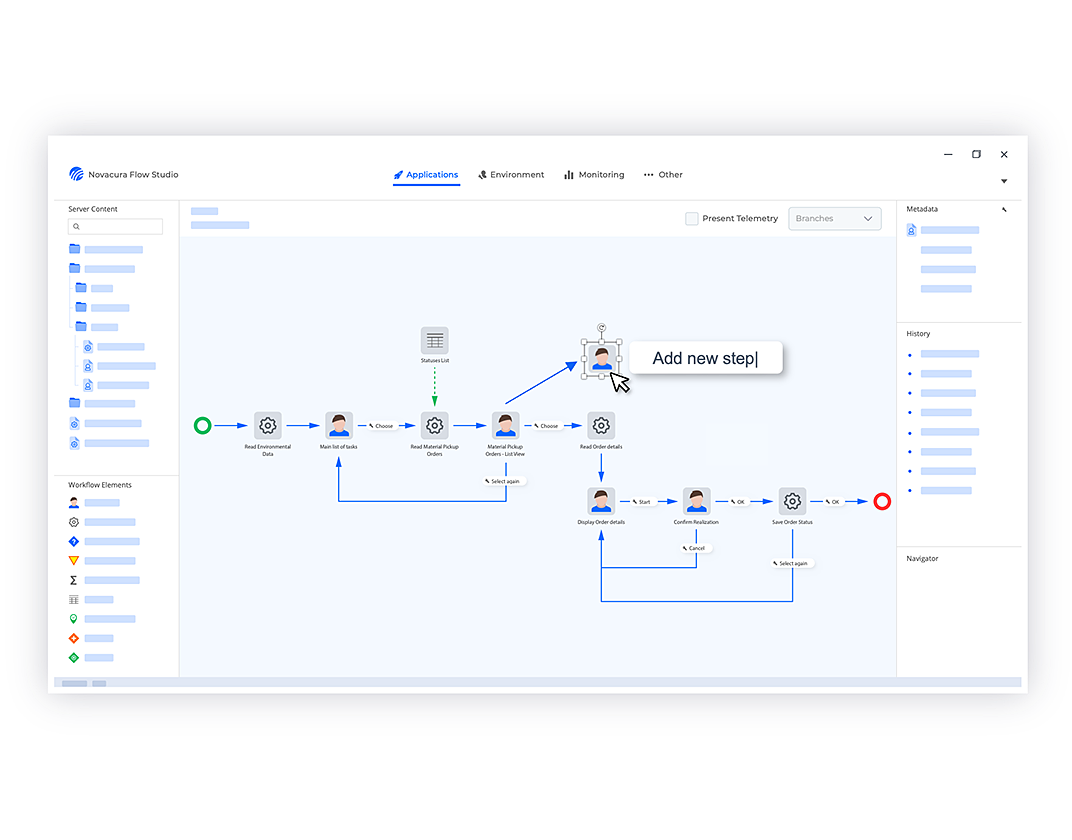 Ready for changes thanks to its low-code core!
Every company is different from the others. You might have specific processes and require unique features and we are ready for that! We created our applications for energy companies based on our low-code platform.
Our applications are not hard-coded so our customers can modify them or clone them and create variants. And they can build their own applications. And thanks to the low-code engine they can create applications by drawing them like they draw a business process.
Integration with ERP. Deep integration!
Our low-code platform Novacura Flow and industry applications can play a vital role in an energy company. But we are not forgetting about the ERP!
We treat the ERP system as a primary system – all master data, operations and reported information is stored there. And everything that users do in Flow is immediately visible in the ERP! It is possible because our platform has specialized online connectors to ERP systems. You can think of Novacura Flow as an alternative, mobile and efficient user interface for your ERP.  Thus, you can easily adopt Novacura Flow without changing surrounding processes which can still run in your ERP!