..
OFFLINE AND ONLINE ASSISTANCE
Field Service Management Solutions
With Novacura Flow, your maintenance and field service technicians have all the information they need for the day, right in the palm of their hand—even when they're in the middle of nowhere.
01:
Work Order management
Manage and complete work orders from anywhere, on any device—even offline. Novacura Flow works everywhere you want and need it to work, with no duplicate entries ever.
02:
Employee scheduling
With Novacura Flow, technicians can access up-to-date schedules, plan their routes, access customer and equipment data, even fill out work orders and fault reports—all from their mobile device.
03:
Real-time monitoring
No more wondering if a technician is on schedule: with Flow, the back office can receive real-time updates, track work vehicles with GPS, and help technicians optimize their time.
04:
Job Safety Analysis
Make sure everyone in your organization is working safely, wherever they are. With Novacura Flow you can build steered workflows to help technicians complete tasks in the proper order, with alerts and safety reminders to make sure they're aware of hazards.
05:
Customer Portal
Novacura Flow's customer portal functionality allows customers to place their own orders, access their account information, even book their own service appointments—meaning less effort for your workers, and more time to focus on value-added tasks.
06:
Fault Report management
With Novacura Flow, technicians can create and submit fault reports right from their mobile device. Or take things a step further: connect Flow to smart sensors and automatically generate fault reports and work orders based on sensor data.
07:
Contractor management
Manage virtually everything related to sub-contractors with Novacura Flow. Create apps to help manage sub-contractor costs, hours, materials, expenses and whatever else you need. Your sub-contractors can report all their information right from their mobile device.
08:
Remote guidance
Wouldn't it be great if you could send your best, most experienced technicians to every job site? Offer your best service to every customer, no matter where they are? With the power of remote guidance and augmented reality, you can.
09:
Complex Process management
Flow makes it easy to handle complex service processes with multi-competence work orders and hand-overs. You can even include new techniques like total preventative maintenance (TPM), condition based monitoring (CBM) or Lean maintenance.
Field Reporting soLution
:
Access to documentation from everywhere.
The Novacura Worksite Field Reporting app provides access to all the documents, forms, images and projects you need - right from your mobile device. And if you find a problem in the workplace, you can take a picture of it, upload it to the app and let others know it needs to be fixed.
Simple in use, hard to break down.
The most comprehensive reporting tool won't work if no one uses it. That's why the Novacura Worksite Field Reporting app was designed with simplicity in mind. A clear user interface makes the application easy to understand and leading to instant engagement of field workers.
Time reporting has never been easier.
Report your time in just a few clicks. Schedule your crew's time and report hours for your entire team in seconds. Save more time on administration and reserve time for the things that are important to you.
Designed to work with ERP systems.
Novacura's Worksite Field Reporting application is designed to connect and integrate with the most popular ERP system, like Infor M3, IFS, SAP, IBM Maximo.
Thanks to our ready-made ERP connectors, our applications can exchange data with ERP systems in the "online" mode, and when the Internet connection is lost in a field, the data will be stored locally and synchronized with the ERP as soon as the connection is established.
Remote mobile access
Mobile app's are available on any device (desktop computers, tablets, mobile phones, QR readers).
Users can multi-task within the mobile app.
Apps are personalised and can include any number of options and field service users.
Users can take photos and share them directly with the support centre.
Multiple operations for every industry
Mobile apps can be customized regarding needs of every industry: energy, railway, service & maintenance, transportation, construction, shop floor for any manufacturing  etc.

Multiple indoor and outdoor operations can be handled in a single application, regardless of assortment and equipment to be controlled.
Interconnected operations
Connect your operations to internal warehouses and order spare parts directly from the mobile app.
Operate and schedule service and maintenance activities for better management of working hours  and plan downtime.
Data can be continuously exchanged with the central ERP system.
Field Service Management
FSM Mobile enables technicians to execute work in the field from their mobile devices.
Details – update task details such as status, description, and start date
Notes – create and update notes
Attachments – review and create attachments such as documents and photos
Steps – create and update task steps
Quality – create and edit associated quality requirements
Contacts – create and edit contacts on task
Interface optimized for field operations
Our applications run on a very sophisticated software platform – Novacura Flow. One of the key foundations of this platform is to run on every device – from barcode scanners, via mobile phones and tablets, to desktop workstations equipped with large screens.
But we are not just another SaaS software that offers that. We have optimized our user interface for users that operate in harsh conditions. I.e. – our applications can run in a field with no internet connection using a specific offline mode.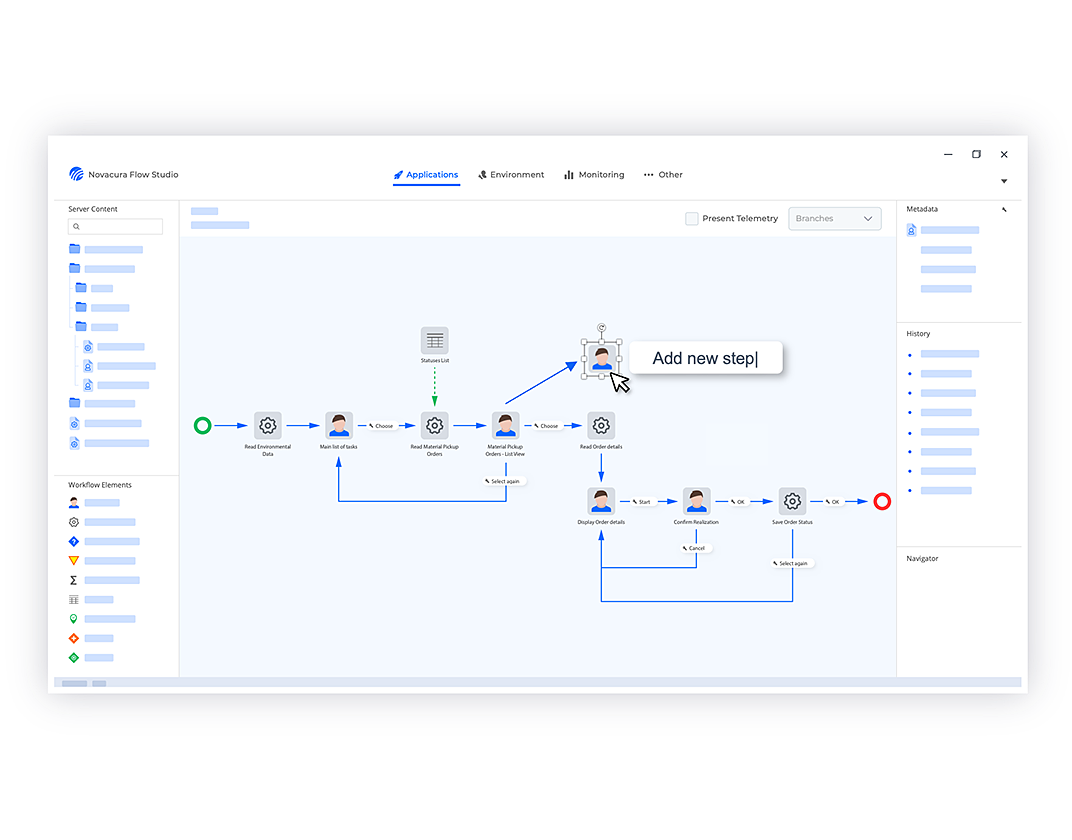 Ready for changes thanks to its low-code core!
Every company is different from the other. You might have specific processes and require unique features and we are ready for that! We created our applications for field service and maintenance based on the low-code platform.
Our applications are not hard-coded so our customers can modify them or clone them and create variants. And they can build their own applications. And thanks to the low-code engine they can create apps by drawing them like they draw a business process.
Integration with ERP. Deep integration!
Our low-code platform Novacura Flow and industry applications can play a vital role in the field service and maintenance operations. But we don't forget about the ERP!
We treat the ERP system as a primary system – all master data, operations and reported information are stored there. And everything that users do in Novacura is immediately visible in the ERP! It is possible because our platform has specialized online connectors to ERP systems. You can think of Novacura Flow as an alternative, mobile and efficient user interface for your ERP.  Thus, you can easily adopt Novacura Flow without changing surrounding processes which can still run in your ERP!