Industry Guidebook
9 ways to meet e-commerce requirements for your warehouse
Almost overnight, the pandemic fundamentally changed the way businesses operate. Many retail stores were forced to close, global supply chains were disrupted, and consumers shifted their focus to online purchases. Warehouses, often regarded as a back-end function, were now front and center and had to shift from fulfilling large retail orders to selling individual items directly to consumers. As a result, the need for a comprehensive e-commerce fulfillment strategy – centered around the warehouse – has never been greater.
In this article, we'll discuss 9 ways you can prepare your warehouse for the COVID-19 online sales boom and beyond.
1. Invest in an e-commerce solution that's connected to your warehouse
E-commerce popularity was growing before the pandemic began, but COVID-19 massively accelerated the growth as much as 4 to 6 years, according to a recent Forbes report. The boost in online sales, while great, came with its own set of challenges. Most warehouses were not equipped to handle the influx of online sales, especially when selling directly to the consumer. New safety protocols, personnel shortages and supply chain delays compounded the issues further, highlighting the need for a comprehensive e-commerce strategy tightly integrated throughout the warehouse.
Online communication between your e-commerce platform and warehouse management solution (WMS) is key to making better-informed decisions and having visibility throughout your warehouse. Technology solutions, like Novacura Flow (low-code platform and integration platform), enable you to connect your existing e-commerce platform to your WMS. This integration provides immediate online access to information such as current stock levels, order processing status, and online reservation of goods when they are sold. But this is not the end – Novacura Flow platform can help implement the "Omni-channel" strategy. The platform can integrate physical stores and e-commerce platforms and effectively manage all reservations from all channels.
2. Monitor warehouse activities in real-time
Customer demand is often hard to predict and can quickly fluctuate based on a change in a situation or priorities. Governmental regulations, extreme weather events, and social media can all influence overall demand and the demand between channels (purchases made in retail stores vs. online). For example, not many could have predicted the toilet paper shortage that resulted from COVID-19.
Still, there are steps your business can take to make better-informed decisions and react more quickly to fluctuations in demand. Warehouse activity can, and should be, monitored minute-by-minute online using a tool, like Novacura Flow, so that you can be alerted to trend changes as they arise. By integrating your e-commerce with your warehouse, you will no longer have to guess where an item is within the warehouse or wonder where an order is in the process. Instead, you'll be able to see exactly where everything is within the warehouse and adjust stock accordingly to meet the anticipated demand.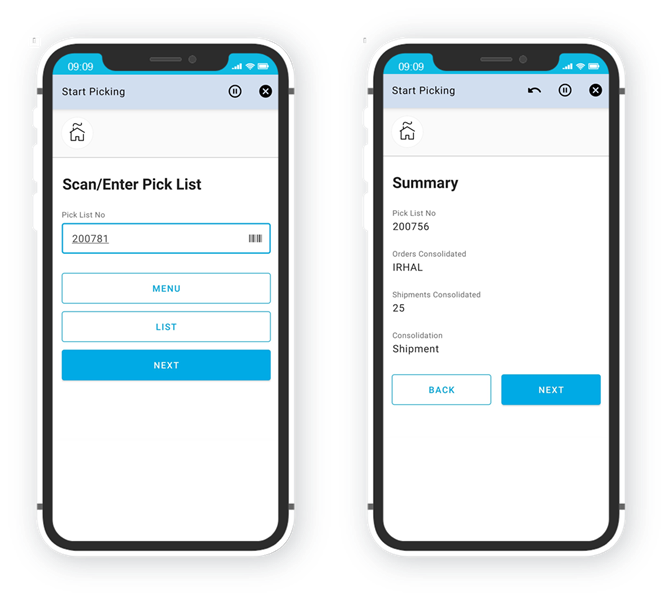 3. Setup contingency plans for unstable supply chain
Lockdowns across the globe slowed, and in some cases, temporarily stopped the flow of materials altogether. The unstable and unpredictable supply chain magnified challenges that existed before the pandemic and highlighted the need for new strategies and technologies that were more collaborative and resilient.
Supplier diversification became extremely crucial to offset the instability experienced throughout the supply chain. Businesses found that they could mitigate risk, increase procurement flexibility, and speed up the fulfillment process by working with a broader range of suppliers. However, as more suppliers were brought on, they became harder to manage.
A B2B portal, like Novacura Flow Portal, makes managing an extensive network of suppliers easier by consolidating all your supplier information into a singular view. The portal allows you to visualize order details across your suppliers, including information such as production plans, demand estimations, pre-order reservations, invoicing, discount tiers, claims management and auctions. Better visibility and online communication with customers, suppliers, and stakeholders allow you to respond more quickly to volatile changes in supply and demand.
4. Stock the warehouse to anticipate needs & meet delivery demands
 Before the pandemic, it was typical for warehouse inventory to be lean to limit upfront costs and utilize space more efficiently. However, when COVID hit, it severely disrupted supply chain logistics and left many with inventory shortages at a time of increased demand.
As the warehouse shifted to support online sales, so did the need to increase stock on hand. Products had to be in stock and ready to ship to meet consumer expectations. And, unfortunately, even then, it was challenging to get orders delivered to consumers on time. That is why it is so important to have technology in place, like Novacura Flow, that will help to monitor online sales, anticipate customer needs, set appropriate delivery expectations and enable dynamic purchasing from your network of suppliers.
What is really important here – Novacura Flow can manage all your stocks (including goods located in your physical stores) as it was one virtual warehouse. Novacura Flow can make articles located in physical stores visible for the e-commerce channel. That way, if the article is not available in the central warehouse, it can be reserved and sold by an e-commerce platform if only it exists somewhere in your stores! It helps reduce stocks – you don't have to have high stocks in all stores and separately for e-commerce, you can dynamically share them between physical stores and e-commerce platforms.
5. Optimize packaging processes
With online consumer demand growing and delivery becoming commonplace due to the pandemic, quality packaging has never been more important. Therefore, packaging processes need to be optimized to ensure that packages protect goods against damages, are aesthetically pleasing. Moreover, goods should be packaged in an optimal way using a minimal amount of paper – otherwise, you will waste your money on additional boxes and higher delivery costs (a direct relation to box size). And we can't forget that it also has a negative impact on the environment. Any inefficiencies in the packaging process can have dire consequences on your e-commerce business and impede your ability to scale operations. Simply saying – if we can't pack goods properly in a short time, then our whole delivery will be delayed even if we protected high stock levels for quick delivery!
Order preparation, packing and transportation processes should all be automated with intelligent workflows, like those developed on Novacura's low-code platform, to eliminate redundant tasks and improve packaging efficiency. This automation can help preserve the appropriate volume of packages, relay packing instructions to workers, provide continuous stock updates and ensure that each box is packaged most efficiently.
6. Facilitate easy returns
Returns for online purchases are typically three times higher than that of physical stores. Just as consumers have come to expect fast deliveries, they also expect a seamless return process. That means you must be ready to accept a large number of returns. Each return received must then be evaluated, and if eligible, re-processed and put back up for sale as quickly as possible.
Using robust technology, like Novacura Flow, you can take the necessary steps to optimize your returns process. Novacura helps to process returned goods with a step-by-step evaluation guide that helps to identify fraud and handle spikes in returns with greater ease.
7. Embrace Omni-channel distribution
During the pandemic, many retailers transitioned their retail space into micro-fulfillment centers, also known as dark stores. Since many retail stores were closed to foot traffic due to COVID, they shifted to selling in-store merchandise online and used the retail space instead to store inventory and fulfill orders. This approach enabled retailers to sell merchandise contact-free and provided more delivery options for their customers. It also helped to ease inventory storage constraints in the warehouse.
While the concept of using dark stores isn't new, more and more retailers are making dark stores – or hybrid stores – a permanent fixture in their business to meet online delivery and curbside pickup demands. Now that customers have become accustomed to new ways of shopping, it's essential to invest in technology that gives consumers the freedom to purchase (in-store or online) and receive orders from anywhere (ship to home, pick up in-store or curbside pickup). As well as accommodate easy returns (ship to store or return in-store).
From a technology perspective, Omni-channel philosophy isn't something, that is supported by some specific class of systems, that companies can "download and deploy". In a classic approach – each channel (store/online/wholesale) is supported by a separate system, that is specialized to support a particular channel in the best way. Implementation of the Omni-channel philosophy doesn't mean, that companies must replace these well-proven systems. The easiest and most efficient way to become "Omni-channel" is to integrate existing systems dedicated to particular channels into one multi-channel ecosystem.
Novacura Flow's low-code platform helps to support your Omni-channel distribution strategy by providing seamless integration and real-time visibility across all your systems throughout the supply chain. This tight-knit integration across systems helps improve logistics by managing suppliers, improving order processing time, and ensuring optimal inventory positioning across fulfillment centers. What is very important here – implementation of a new Omni-channel strategy needs new cross-channel processes that have to be established; these processes are much more complex than just transferring the data from system A to system B. There is usually a need to check customer's creditability, need to manually enter some information before the task can be passed from system A to system B. Therefore, the "business process management" (BPM) capabilities offered by Novacura Flow are equally important as its technical integration readiness.
8. Provide step-by-step guidance for easy onboarding of temporary hires
Personnel shortages became a real challenge during the pandemic. Social distancing, illnesses and lockdown measures made it difficult to keep employees on staff. As a result, there was a rise in new employees and an influx of temporary hires that needed to be trained quickly. Face-to-face instruction proved difficult (and risky to perform), which often slowed operations until the new personnel could get up to speed on their processes within the warehouse.
Step-by-step guidance provided through a mobile application, such as Novacura Flow, can help to keep operations on pace and speed up the onboarding process to train new hires safely. For instance – instead of training new people on how to pack goods for shipment in advance, applications can guide them step by step per each prepared delivery. In the same way, applications can guide them within the warehouse to find specific goods on a specific storage shelf while optimizing the pick-up path at the same time.
In addition, if one-on-one assistance is needed, virtual reality (VR) can be incorporated into the application to provide remote assistance as needed.
9. Eliminate manual processes throughout the warehouse
COVID-19 has changed how warehouses operate, and thanks in part to a shift in consumer preferences, it will have a lasting impact on how businesses operate long after the pandemic. Warehouses of all sizes are turning to automation to help maintain social distancing and reduce the number of staff needed onsite.
By automating paper-based processes with a low-code development platform, like Novacura Flow, you can eliminate inefficient processes, reduce errors and streamline day-to-day operations with online workflows and barcode integration. As a result, you can onboard new employees faster, implement operational changes more quickly, and enable your people to work more efficiently from anywhere. You can also make better-informed decisions with access to real-time information that will help you to identify issues before they arise. And of course, there are many solutions that might help implement digital processes and achieve the above goals. But low-code in our opinion is the best choice because of its natural flexibility and ability to reshape processes in minutes! Organizing processes in the low-code platform prepares companies for future changes driven by new business conditions, which is especially important nowadays in an unstable situation caused by the pandemy.
Learn more about how to easily change business processes in the Novacura Flow platform.
Improve now
See our entire collection of applications to streamline your operations and much more.
Certain aspects of COVID-19 are likely to diminish over time – like wearing face masks, keeping a 6-foot (15 m) distance, and remote learning, but other trends – like an increase in e-commerce orders and the ability to support Omni-distribution will be here long after the pandemic. Therefore, to prepare your warehouse for now and in the future, an investment in technology is crucial to operate more efficiently and meet the demands of your customers, whether they decide to purchase online or in-store.
Low-code technology such as Novacura Flow can help to eliminate manual processes and streamline operations across your warehouse by providing you with a flexible low-code platform that enables you to:
Integrate your warehouse with e-commerce, as well as other systems
Get real-time visibility into the status of stock levels, orders and deliveries
Make better-informed decisions and react more quickly to fluctuations in demand
Improve communication with Suppliers, Customers and other Stakeholders
Quickly onboard new or temporary hires with step-by-step guidance
Adopt quickly to a dynamically changing environment