Process management for the Logistics industry
IMAGINE A WAREHOUSE WHERE EVERYTHING RUNS LIKE CLOCKWORK.​
No more paperwork overload, no more manual errors and 100% accuracy. You can make that happen with Novacura Flow — and it's easier than you might think.
Below we summarize the list of areas supported by our package of mobile applications for manufacturing companies:
01:
Suppliers / delivery management​
​

Stock level management

​
Purchase orders management within B2B portal

(EDI support)

​
Delivery management within B2B portal (JIT system support)​

Financial settlements with suppliers within

B2B 

portal 

​

Integrated carrier communication within B2B portal
02:
Internal logistics / production support​
Material requisition processing

​

On-demand material delivery orders processing

​

Order picking optimization (picking paths 

optimization, strategies support FIFO, FEFO, 

LIFO)

​

Transportation management for the shop floor (trolleys

configuration & delivery route management and 

planning)

​

External inventory usage optimization (delivery 

time transport duration, production returns 

management)

​​
03:
Finished goods / shipment​
Finished goods storage

​​

Shipment planning

​ and

confirmation with customers (B2B 

Portal)

​

Transportation management,

planning (schedulling / adhoc –

premium freight)

​​

Transportation preparation control (packing,

loading, warehouse dock and ramp allocation)

​

Transportation costs optimizations (route 

planning, post-analysis)
04:
Inventory management
Material and component storage

​

T

raceability, series identification

​

Handling unit management

​​

Material movements

​

Inventory cycle counting system (execution of requisition "on the fly")

​

Aging stock and scrap management

​​

Barcode system (barcode readers and labeling system)

​

Generating locations (virtual locations etc.)
05:
Returnable packaging management
Packages pool planning based on production 

demand

​

Packages in a loop monitoring

​​

Package damage reporting

​

Packages picking / packaging-sets completing 

from the shop floor

​​

Constant packaging quantity control

 

within B2B Portal

​
Track & Trace back and forth packaging among distribution center, suppliers and customers
06:
Common technology support​
B2B Portals (connecting suppliers, customers)

ERP and machines Integration (providing i

ndustrial connectors IoT

/ Industry 4.0, EDI integration

)

Automatical

information retrieving (KPI dashboards - auto

statistics 

processing

​)

Implementation of system capabilities (deployment of software supporting MES, APS etc.)
Augmented Reality based support

Computer Vision 
01:
Custom warehouse management
Combine mobile apps, steered workflows, GPS and barcode scanning to create a warehouse that's virtually foolproof. No more shipping errors, misplaced inventory or paper picking lists!
02:
Barcode scanning and RFID solutions
Code scanning is 10X faster and more accurate than manual input. Adding barcode scanning to your warehouse helps you fill orders faster and improve traceability too.
03:
Quality assured processes
Combine process management, process automation and QA best practices to deliver consistent, reliable services to your customers every time.
04:
Connected workflows
Combine data from your ERP, WMS and other business systems to manage your logistics processes, automate what you can, and optimize everything for peak efficiency.
05:
Customer self-service
Customers want transparency. With Novacura Flow, you can create a customer self-service portal that gives customers the info they want—on your terms.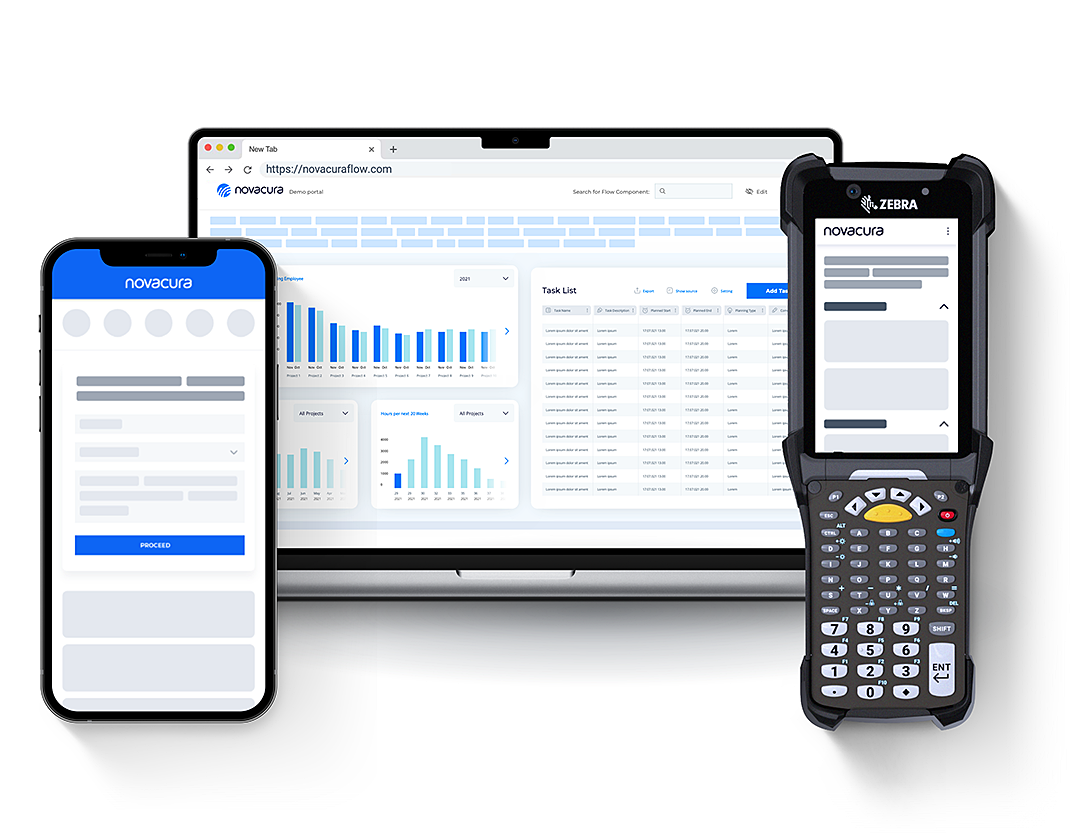 An interface optimized for thousands of operations daily
Our applications run on a sophisticated software platform – Novacura Flow. One of the key foundations of this platform is to run on every device – from barcode scanners, via mobile phones and tablets, to desktop workstations equipped with large screens.
But we are not just another SaaS software that offers that. We have optimized our user interface for users that work on a shop floor, in a warehouse, or in the field. We know that every "click" matters for these people because they run 1000+ operations a day!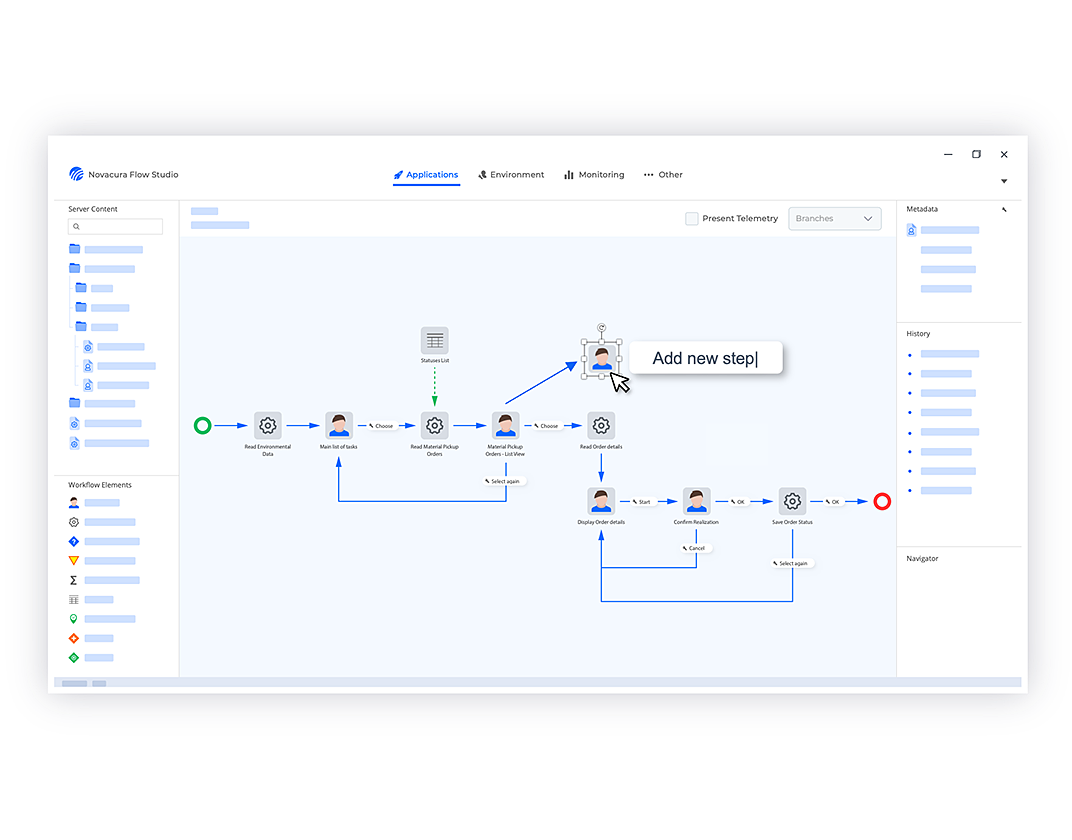 Ready for changes thanks to its low-code core!
Every company is different from the other. You might have specific processes and require unique features and we are ready for that! We created our applications for logistics and distribution based on the low-code platform.
Our applications are not hard-coded so our customers can modify them or clone them and create variants. And they can build their own applications. And thanks to the low-code engine they can create applications by drawing them like they draw a business process.
Integration with ERP. Deep integration in logistics!
Our low-code platform Novacura Flow and industry applications can play a vital role in logistics and distribution operations. Performed activities in logistics and distribution require continuous coordination of various tasks and departments. The ERP system plays a key role for all operational transactions.
We treat the ERP as a primary system –  master data is stored there and available from Novacura Flow applications via the efficient user interface. You can easily adopt Novacura Flow without changing surrounding processes.