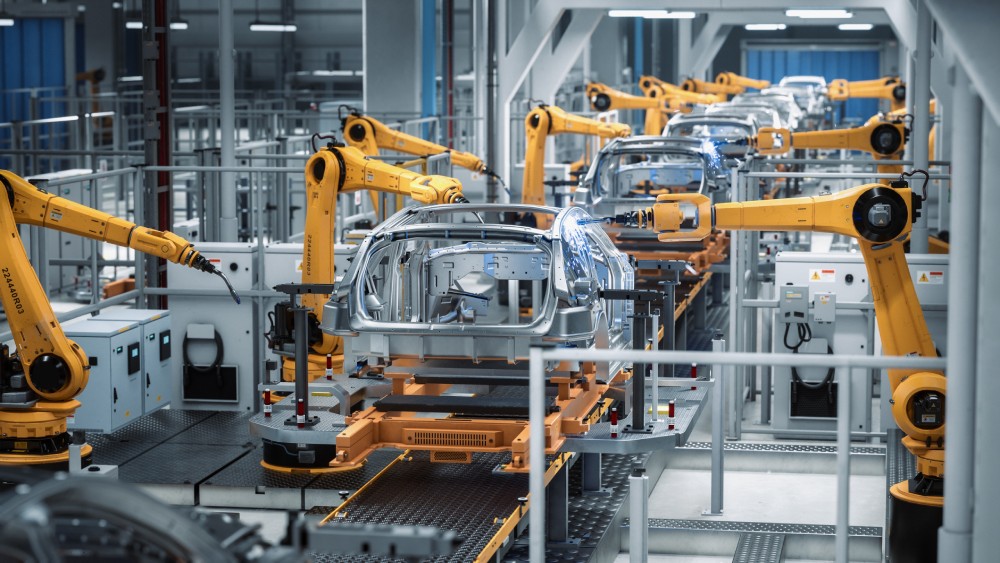 ..
Optimize your supply chain with our ERP applications
Streamline your manufacturing processes with dozens of applications dedicated to your ERP system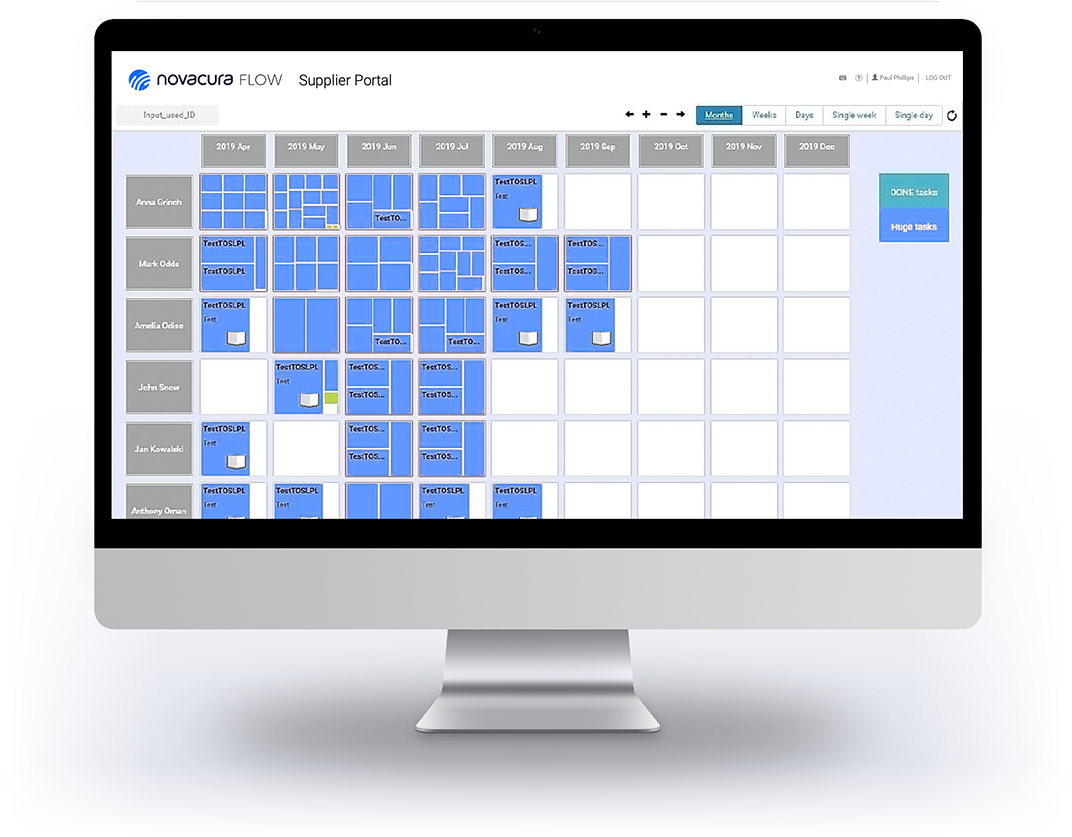 01. Schedule deliveries
With Novacura Flow applications, you can plan material requisitions based on your production plans and current stock levels. It is possible because these areas are supported by one integrated solution.
You can use B2B Portal to confirm the delivery schedule with your suppliers and – finally – book a suitable time-slot for unloading!
02. Connect internal logistics with the shop floor
Your internal logistics may use the same mobile application as your shop floor operators. Therefore, all the material delivery requests, material return requests or packaging return requests issued from the work center at the production line are immediately visible to logistics operators. And when logistics start delivery, production immediately gets a status update.
03. Optimize picking paths
Picking different materials and components for production might be complicated – warehouse operators have to gather different elements spread out across the entire inventory. And since they operate in a "JIT" environment, they are under time pressure.
In our warehouse solution (a complete mobile WMS), the operator shows picking lists in a mobile application. The solution optimizes the picking path based on the location, weight, further unload sequence, or even expiration date of particular goods. And – of course – the operators can use barcode scanners as their tool!
04. Work mobile and report every operation
Thanks to the mobile shop floor application, operators get all the details about their work orders. And they get it immediately after the plan has been updated (online). Operators report their work, and the information is also sent directly to the ERP / planning system.
They not only report their direct tasks, but they can also report downtime, call for material supply, request packages, report scrap or call for maintenance. Thanks to that, managers have complete online insight into the operations and can react quickly and optimize OEE regularly.
05. Incorporate maintenance and reduce downtime
In Novacura Flow, Production management and Maintenance management are parts of the same manufacturing solution. The service team can fit maintenance activities into production plans, even if they change every hour. Moreover, whenever downtime is identified on the shop floor, the maintenance team can be automatically notified in the mobile application and start activities before the machine operator starts calling for help. That will help reduce MTW.
06. Track actual data & optimize the entire process
With the Novacura Flow applications, Production efficiency can be precisely measured – you can gather information from all departments that use mobile applications and read them directly from your devices.
Novacura Flow is equipped with different industrial connectors (BLE, OPC-UA, PLC, RFID) which allow it to read other online information from other devices and machines.
Let us show you our complete package of applications dedicated to supporting manufacturing companies!
Below we summarize the list of areas supported by our package of mobile applications for manufacturing companies:
01:
Maintenance
Maintenance tasks planning – Integration with production plans
Mobile Work orders for maintenance (preventive & reactive)
Tools management
Spare parts management
Maintenance subcontractors management (incl. financial settlements)
02:
Shop floor operations
Mobile shop orders processing
Reporting (Time, Material, Scrap etc.)
Logistics requests (material requisitions, returns, package requisitions)
Downtime reporting
Defects reporting
Maintenance calls
Staff management
03:
Internal logistics
Material delivery (JIT, up to particular production sequence)
Different picking strategies support (FIFO, FEFO, LIFO)
Warehouse <> Shop floor transportation management
External inventory usage optimization
Material returns management (from production)
Finished goods transportation
04:
Inventory operations
Material storage (material moves, handling unit management, traceability)
On-the-fly Inventory counting support
Picking paths optimization
Outdated materials / Scrap management
Barcode labels management
Full support for barcode scanners
05:
Production planning / Scheduling
Long Term planning (S&OP, Demand, Master etc.)
Short Term planning (Capacity, Material)
Repeatable / discrete production support (BOM based)
Contractual production support (configure to order based)
Daily Plans updating based on real execution
06:
Delivery & Shipment management
Stock level management based on production plans
Delivery planning & management
Financial settlements with suppliers and customers
Finished goods inventory management
Shipment planning
Transportation management
Returnable packaging management
07:
Automation / Technology
Industrial IoT (IIoT) / Industry 4.0 support
Connectivity (OPC-UA, PLC, RFID / BLE)
Integration between machines and ERP – real performance statistics processing
Support for various ERPs (IFS, Infor M3, IBM Maximo, SAP and more)
Computer Vision
Augmented Reality based support
08:
Production supervision
KPI Dashboards
Visual "Info-Screen" on a Shop floor
OEE evaluation
Defects analysis / traceability
Supplier stats analysis
Material usage analysis (performance vs technology)
Continuous improvement support (thanks to the low-code process modeling technology)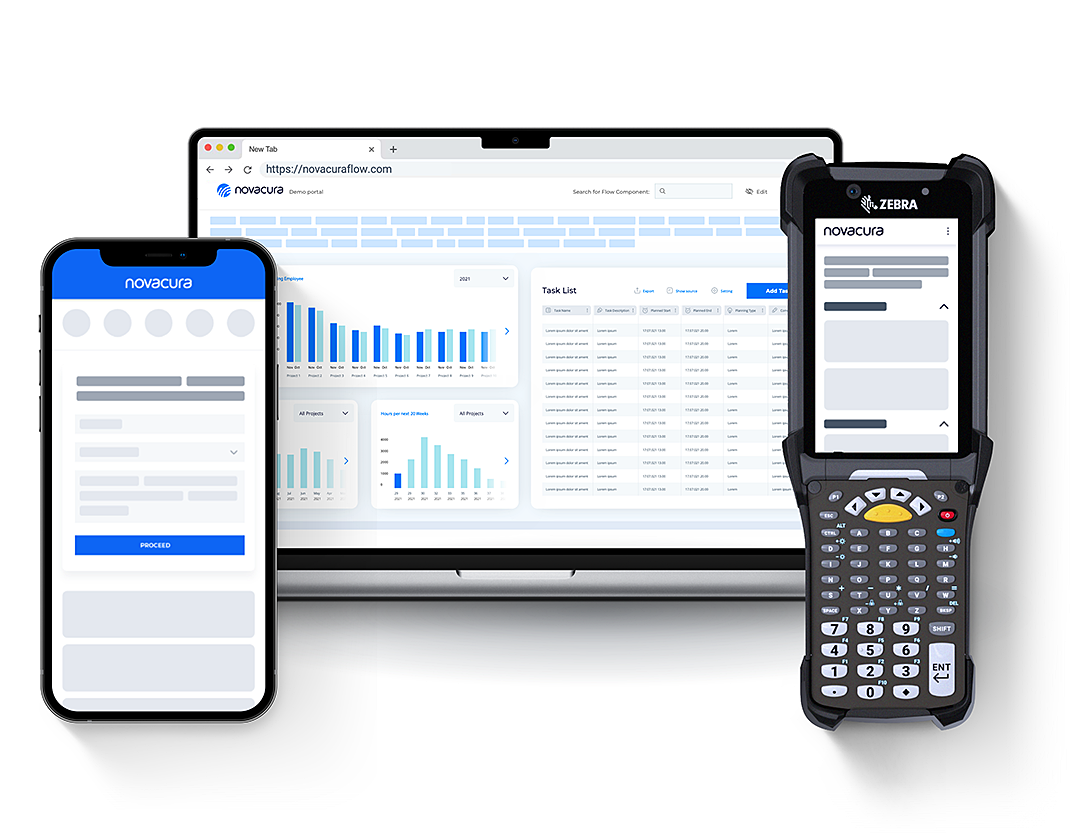 Interface optimized for thousands of operations per day
Our applications run on a sophisticated software platform – Novacura Flow. One of the key foundations of this platform is to run on every device – from barcode scanners, via mobile phones and tablets, to desktop workstations equipped with large screens.
But we are not just another SaaS software that offers that. We have optimized our user interface for users that work on a shop floor, in a warehouse, or in the field. We know that every "click" matters for these people because they run 1000+ operations a day!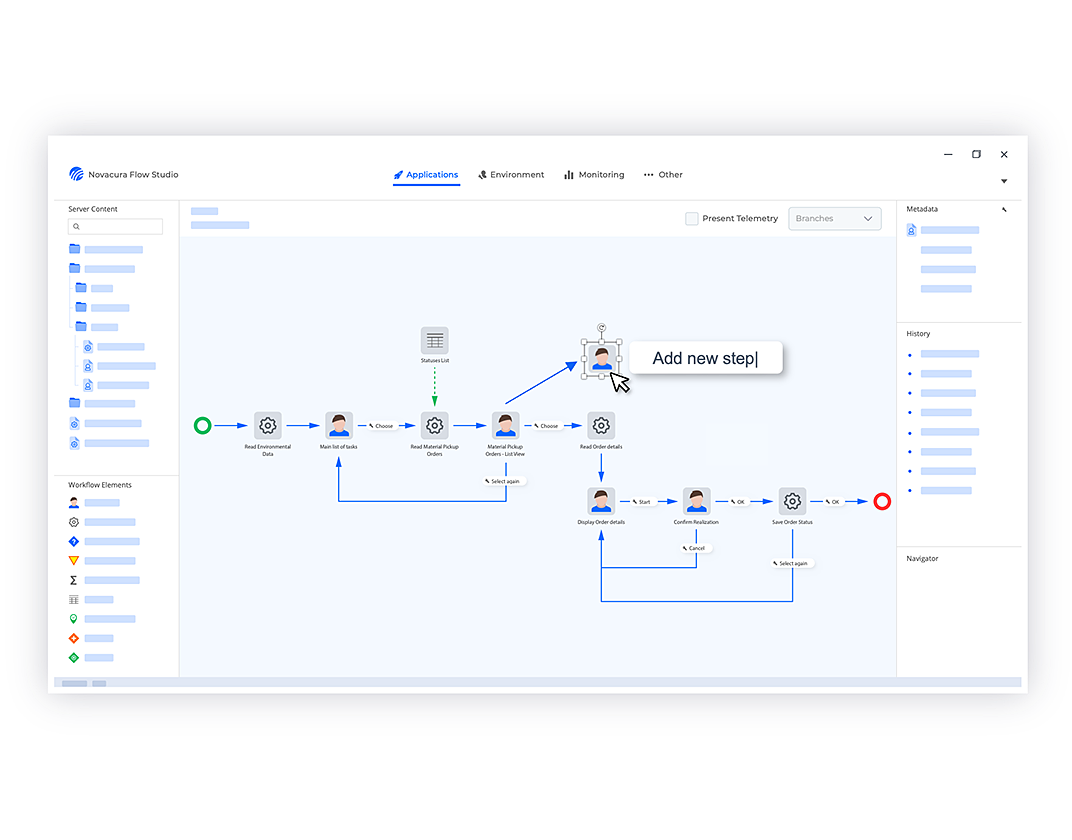 Ready for changes thanks to its low-code core!
Every company is different from the other. You might have specific processes and require unique features and we are ready for that! We created our applications for manufacturing based on the low-code platform.
Our applications are not hard-coded so our customers can modify them or clone them and create variants. And they can build their own applications. And thanks to the low-code engine they can create applications by drawing them like they draw a business process.
Integration with ERP. Deep integration!
Our low-code platform Novacura Flow and industry applications can play a vital role for a manufacturing company. But we are not forgetting about the ERP!
We treat the ERP system as a primary system – all the master data, operations and reported information is stored there. And everything that users do in Novacura is immediately visible in the ERP! It´s possible because our platform has specialized online connectors to ERP systems. You can think about Novacura Flow as an alternative, mobile and efficient user interface for your ERP.  Thus, you can easily adopt Novacura Flow without changing the surrounding processes which can still run in your ERP!