Industry Guidebook
Top Mobile App's for industries in 2023 from Novacura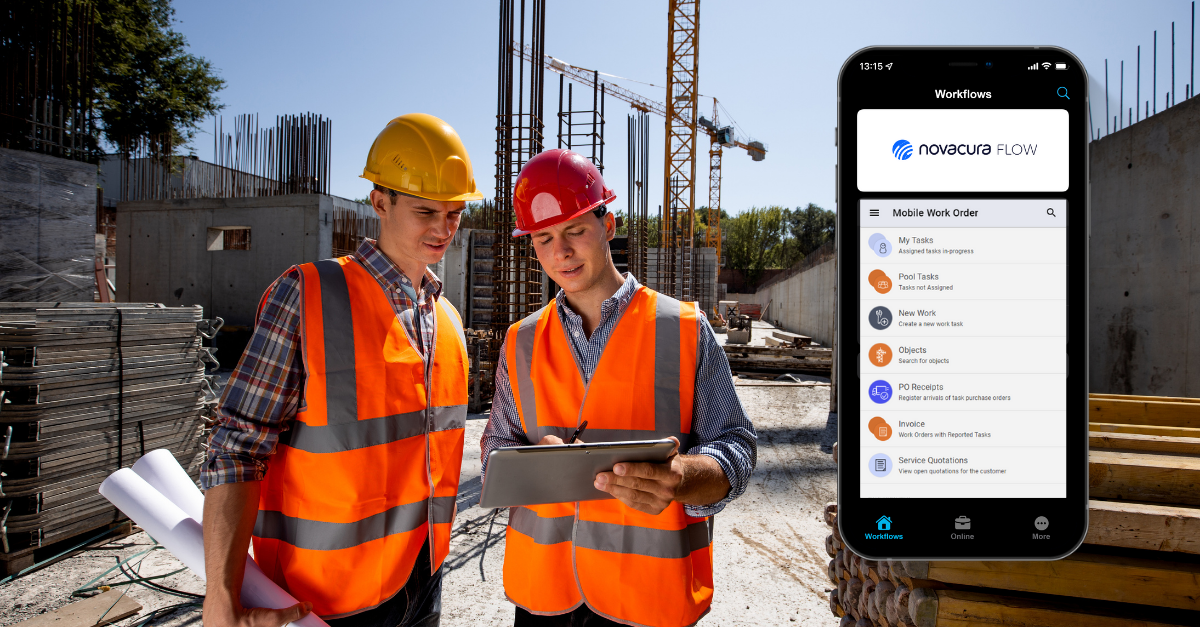 Designing and developing new processes in business operations is a complex and multidisciplinary task. Continuous improvements and adaptations to new processes in all major industries, including warehousing or production optimizations, can only be sufficiently implemented with the proper methods and tools in the hands of managers and developers.
In a highly dynamic business environment, companies depend on rapid, unpredictable market changes, and it is crucial to have access to tools that provide employees with quick and simple business solutions. While looking at the current mainstream leading to the complete digitization of business, companies need to be able to redesign their day-to-day processes and integrate them directly with ERP systems. At the same time, there is a high demand for the implementation of mobile solutions used by operational staff across the company network. With mobile solutions installed on the company's premises, it is possible to create a business structure that generates many benefits inside and outside the organization.
Operational problems among industries
Regardless of the industry in which a company operates, whether it's mining, manufacturing, logistics, energy, oil & gas, or construction, they all depend on storage, warehousing, equipment maintenance, production process, supply chain solutions, etc. Here are the problems that can affect all these industries without mobile solutions:
Low-quality warehouse management – lack of mobility in the warehouse can cause severe problems in inventory management, cycle counting, picking and packing, receiving goods, and shipping. In the end, goods cannot be delivered to support ongoing operations, and business contracts cannot be fulfilled.
Poor business integration – poor integration refers to all systems that are interconnected in a modern company but are not integrated to provide a holistic view for all parties involved. For example, modern manufacturing should be connected to internal logistics, warehousing, and supply chain to ensure seamless production results and mobile-supported delivery. Failure to integrate all departments with software and streamlined processes with mobility creates inefficiencies.
No offline mode – industries such as field services, construction, and energy are required to maintain the number of operations at a location unrestricted by network access, so employees still perform many manual tasks using paperwork. The lack of offline mobile solutions can cause many errors in operations and slow down processing, reducing quality.
Lack of personnel and task management – personnel who operate extensively in different locations should have constant access to data and should be able to review progress, etc. Regular access to current operations can be provided by mobile devices and software that can share up-to-date information across the organization with the entire personnel.
Missing planning and scheduling system – extensive construction, logistics, distribution, and mining operations required a complex planning system linked to various departments and organizations. The lack of a mobile-enabled system limits the availability of employees, e.g., for track & trace deliveries lack of a digital POD to confirm deliveries.
Total mobility with Novacura Flow
Improvements in the design of structural elements of operational processes are often challenging to implement with ERP modifications. Practically, optimization methods usually force process designers to simplify the problem, resulting in drastic and consequent loss of operational reliability.
Novacura Flow is a software that allows the application of business structural optimization methods without modifying the ERP system. The technology offered by Novacura's tools has contributed significantly to total business mobility, enabling employees to build mobile applications integrated with the ERP system. 
The applications are built on a low-code platform that maximizes alternative approaches in the business data processing. The solutions have an interface where employees can use workflows to combine individual and organizational parameters into pipelines, integrate them with the EPR system and ultimately provide operational staff with ready-to-use mobile applications. These applications are integrated with the ERP system, thus imposing a constant exchange of data with the company's servers.
Top Mobile Apps for business operations
With Novacura Flow, users can create their business applications and use ready-made solutions provided in the Novacura Marketplace. During many years of cooperation with companies in various industries, Novacura has developed applications that can be directly used in manufacturing, warehousing, logistics, service and maintenance, energy, mining, and oil & gas industries. We have created applications and put them together in packages. Below are four of our packaged applications that can be implemented in operations.
The application package includes more than 100 apps to support the daily work in the warehouse. The example on the screen shows all-around overview of the applications inside of the package. 
The package contains applications that support various field operations and maintenance. The example above illustrates the task assignment.
The package includes applications dedicated to supporting production and internal logistics, including inventory. The example on the screen shows the application's function for registering the tools needed to complete a task. Among other functions, employees may have the ability to manage downtime, assign tasks to personnel, etc.
The package includes applications dedicated to mining, construction, field reporting, service and maintenance. The example on the screen shows a Crew Management application for tasks assignment.
We provide a wide range of solutions for business processes. Find a solution for your business and streamline your processes.
All applications can be easily modified when there is a need to change the user interface or operational functionality.
Turning app features into business benefits
Mobile applications are equipped with various functions that can be modified to internal business needs. These functions provide significant benefits to the company.
Warehouse management – a comprehensive suite of applications supporting order picking, inventory management, shipping, inbounding, functionality for barcode scanners, and many other features that ensure the warehouse fully covers current logistics and distribution needs, including support for manufacturing.
Get app package Warehouse Management
Simple and mobile-friendly applications for warehouse operations
App's dedicated for different industries: Manufacturing, Construction, Oil & Gas, Energy, Field Services, Logistics & Transportation, Mining
Transportation & logistics management – mobile apps provide features such as a digital POD, and track & trace deliveries that can be used by employees responsible for receiving goods at the site and administration personnel. In this way, companies can reduce the paperwork and costs involved in lost shipments and will have a clear view of operations.
Real-time field performance data – apps exchange data with the ERP system in real-time, allowing users to see updates from mobile devices directly in the ERP on all connected devices. This solution will help drive more accurate ongoing processes and rapid responses to ongoing problems.
Get app package MOBILE WORK ORDER
Apps that covers Work Tasks, Pool Tasks, New Work, Objects, PO Receipts, Arrival, Invoice and Service Quotations.
Create, delete, update Material Requisitions and Issue automatically or manually and more!
Offline mode – applications are supported by offline mode; while employees are off the network during maintenance or service work, they can use applications that will store temporary data on the device and update servers when the connection returns. This solution will reduce data discrepancies caused by incomplete or late-delivered paper service documentation.
Get app package Shop Floor Reporting
The shop floor reporting app provides a variety of manufacturing-related reporting possibilities for shop floor users. 
Barcode scanning & real-time media capturing and more!
Production planning, reporting, and cost tracking – manufacturing require continuous tracking of materials that must be delivered on time in the required quantity to the production line and monitoring of shipped goods. Novacura applications can collect all this data and provide important metrics for finance departments and KPIs. This solution gives a holistic view of the entire operation and helps avoid downtime in the production facility.
Businesses need mobile solutions to provide more consistent support for their operations. Applications made on Novacura's Flow low-code platform can break through the operational limitations of an insufficiently operable ERP system and exceed its capabilities through total mobility.
Novacura has been providing its solutions for nearly 20 years. We have gained experience in various industries and have proven our ability to meet the technical business requirements of organizations. Our software can be used by non-experts, which is crucial for companies in a sector where the necessary knowledge is in short supply. We provide adequate product training to sales forces worldwide, which means that requests for demonstrations and reviews are held up until the product is fully functional. Our software reduces the duration of the application development phase and associated costs with a clear ROI projection. See more of our customer cases that provide references to our successful implementations.