What are the benefits of FSM software from Novacura Flow?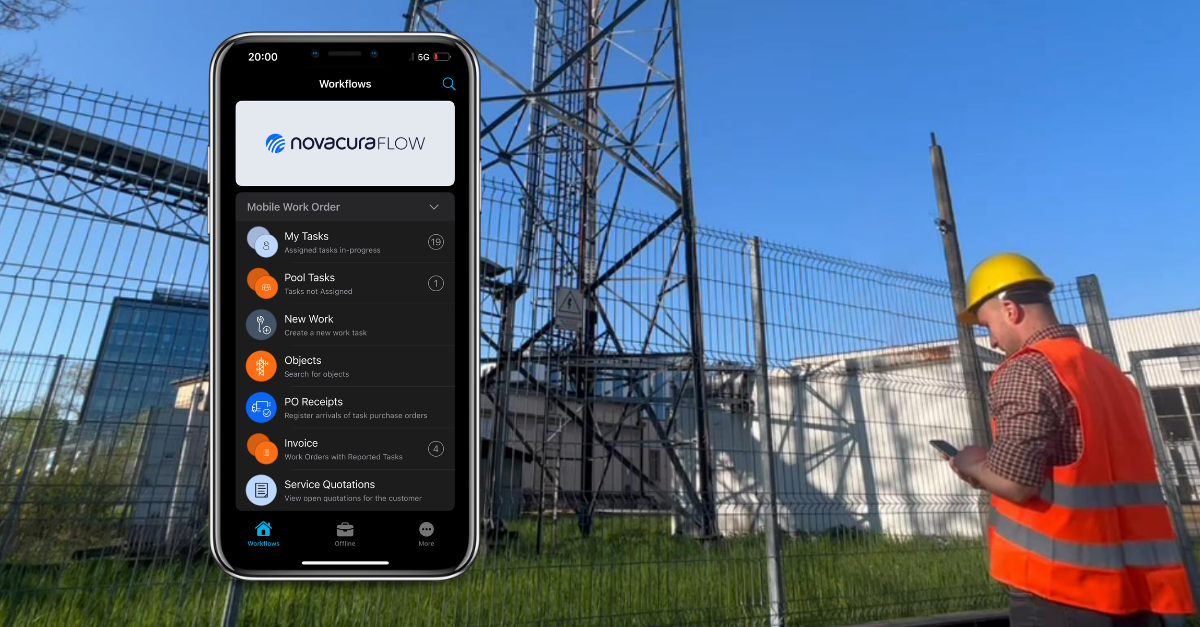 The maintenance role in various industries focuses on a management approach that predominantly relies on time-driven scheduling or repetitive tasks such as inspection of equipment, monitoring of plant conditions, or in some cases, lubrication of mechanical components. The oil and gas, refining and distribution, transportation, construction, and building development industries require continuous field service and maintenance to prevent catastrophic failure modes. The maintenance should provide periodic adjustments to maintain the required levels of reliability and availability.
The complexity of today's field service management cannot be handled simply and cost-effectively without the support of FSM software, which brings definitive advances to the business when it comes to personnel management, failure detection and preventive action, data analysis, forecasting, and even inventory management. The implementation of FSM software guarantees efficient operations through sustainable methodologies and field service management techniques. The only software that can provide maximum flexibility with configurable features will be the most suitable to cover an organization's functional requirements for field services.
Why use field service management software?
Companies should consider implementing FSM software for several reasons. Here are the main factors that drive the need to implement FSM software:
Intensifying energy efficiency – maintenance can prevent uncontrolled energy consumption, as well as eliminate increased energy consumption by inefficient electrical equipment or installations that may need to be replaced with modern technology. In this way, companies can use less energy but also take advantage of various asset management models that are important for site management and generally towards building efficiency, which among others, can help reduce water consumption, etc.
Standardise procedures, time, and costs – companies use maintenance to reduce or prevent the expense of major equipment failures, which tend to be more costly. Companies can also minimize spare parts inventories, reduce the need for backup equipment and increase equipment uptime, which automatically creates maximum production revenue.
Systematic strategy – with FSM software, companies can implement various maintenance models, such as preventive, corrective, and predictive maintenance, to help develop a strategy and action plan for planned services and relocation of resources during operational failures caused by plant failure. Companies can also benefit significantly from workforce management by reducing overtime, providing a better workload balance, and managing tasks and contracts.
Safety and supporting the energy transition – transport and plant management have an impact on climate change, the maintenance of which can reduce business requirements and plays an important role mainly related to reducing waste, pollution, and carbon emissions. In this case, companies use FSM software to improve safety and pollution control.
Continuous optimization – FSM software can help stimulate initial action rather than reaction, indicates support to the user from a continuous improvement perspective, as well as improving equipment reliability over time that ensures consistent quality. FSM software provides both short- and long-term value to corrective actions, which will have a positive impact on ROI.
What are the 5 types of the service industry?
Industrial services for FSM include various installations and equipment at remote locations but also at various stations and plants. Here some of the industrial areas that are required service and maintenance.  
The basic mechanical properties of pipe installations are related to the component materials, which require consistent maintenance to predetermine the standard condition. When it comes to pipeline inspection, engineers are responsible for measuring the material, which absorbs a certain amount of impact energy on a daily basis. Whether dynamic or static energy impacts, the resistance of the material can vary over hundreds of miles of pipeline. Other important reasons for conducting pipeline maintenance are related to isolation and distribution systems, such as valves, pumps, and other mechanical components. These allow the manipulation of flow and pressure to ensure the flow of oil, gas, water, or other liquids without major problems.
Maintenance of electrical installations
The energy industry consists of two types of main installations that need to be operated and maintained. The first main component is the power plants where energy is produced. These can be windmill stations producing electricity or power plants using solar energy. The second type is any installations that supply electricity. The internal equipment stations within power plants or remote power grids with high-voltage lines and energy flow control stations will need to be maintained to improve the generation and transmission of electricity.
Construction site operations and building maintenance
The construction site required a good disposal program with labor management, work order scheduling, and material requirements, which include many other conditions important during the development of the building, bridge engineering project, and other asset management resources. Once the project is complete, building and infrastructure maintenance focuses on asset management, detecting equipment defects, preventing installation dysfunctions, and establishing proper administration methods to capture errors before they cause major problems in the facility's functioning. When it comes to preventing defects in sanitary facilities or controlling emergency equipment, effective service and maintenance programs are key to the efficiency of site management.
Network maintenance in the telecommunications industry
Providing network access today is important for most modern businesses. Field services include the maintenance of transmitting antennas, broadcast stations, the telecommunications information network, software, data hubs and servers, and all in-building installations to keep key communication areas up and running. Service and maintenance should provide organizations with the highest performance of their communications systems, with many exceptions located across the country in remote areas. Companies that prioritize sustainability integration can increase their performance with best-in-class FSM programs that are supported by software technology.
Maintenance of the transport network
Nowadays, electric power stations such as chargers are an important part of transport network maintenance, which also includes facilities for urban public transport. Electric transport in the public sector is prevalent in countries such as the Netherlands, Sweden, the UK, major cities in the USA, and Australia. The transport network includes the rail industry with its installation and the road industry, which in both cases includes monitoring of lighting equipment and traffic control installations. Similarities are evident in air transport, whose network maintenance includes airports and warehouses that require additional security. In each of the exceptions, public transport should guarantee 100% safety for its passengers through well-maintained and secured areas.
What is the best service management software?
Maintenance management helps to implement a multi-disciplinary approach from engineering, technological, commercial, economic, and social perspectives. Acting in all these areas brings the ultimate benefits to the company, which can only be achieved through FSM software, which is an essential element of eliminating failures in the organization.
Novacura is a business solution based on low-code technology that provides an organization with the complete functionality of FSM software. Novacura Flow FSM is a configurable software that allows users to manage business processes (BPM) and build mobile applications dedicated to field service workers. Novacura Flow software does not require high programming
The example presented above explains how users can use Novacura Flow, with access to Novacura Flow Studio, environment for developing applications for internal operational needs in warehouses. 
Here are the benefits provided with Novacura Flow FSM software:
Customization – Novacura Flow FSM can be tailored to a company's internal requirements, making it more relevant to current industry needs and streamlining operations with more accurate data collection and efficiency. 
Mobile applications – Novacura Flow FSM users have access to Flow Studio, an environment where employees can create mobile applications with a customized interface; applications can be released in a matter of hours and used on all types of mobile and desktop devices, giving the FSM the greatest flexibility to support and maintain different equipment in various locations.
Offline mode – mobile apps can have built-in functionality that allows data to be collected offline when the network is not available or has limitations. In this way, field personnel can carry out their duties without the risk of losing data (which is automatically uploaded to the central system when the network is available again).
Deep ERP integrations – Novacura Flow FSM software acts as an additional layer to the central system, the role of which is performed by the ERP system. Novacura provides various connectors that allow integration with the most well-known ERP systems, such as IFS, SAP, Infor M3, Oracle, etc. Data collected from Novacura mobile applications used by field employees can be exchanged with the ERP system in real-time, making all operations directly visible in the central system.
Lower maintenance costs – Novacura Flow FSM software helps companies better manage their budgets through more accurate data collection, better scheduling of working hours, management of maintenance operations, prevention of costly downtime, and more efficient inventory management, thus creating competitiveness in the modern business environment.
Mobile apps dedicated to FSM can be built in minutes and deployed immediately in work environments for field service and maintenance. App's are connected with ERP. To make the development process easier, Novacura makes ready-made applications available for download from its Marketplace.
Field service management, by nature of its complexity, is a process that criteria are laid out in business areas that can affect costs, productivity, and user satisfaction. The FSM software provider should make customers aware of the improvements available to them and help them remain innovative, and keep operating costs as low as possible.
Customer case
Learn more about FSM implementation from Novacura in SweMaint, leading company that operates in railway industry.
Novacura Flow is a solution dedicated to covering all FSM software requirements. We have been providing our solutions for almost 20 years worldwide to a variety of industries. We help companies increase the competitiveness of their field services, be more innovative and keep operating costs low, and deliver significant value based on return on investment. Contact us today, and let's talk about your business, to help you leverage your organization with best-in-class, customizable FSM software.