Manufacturing solutions for Nolato Gota from Novacura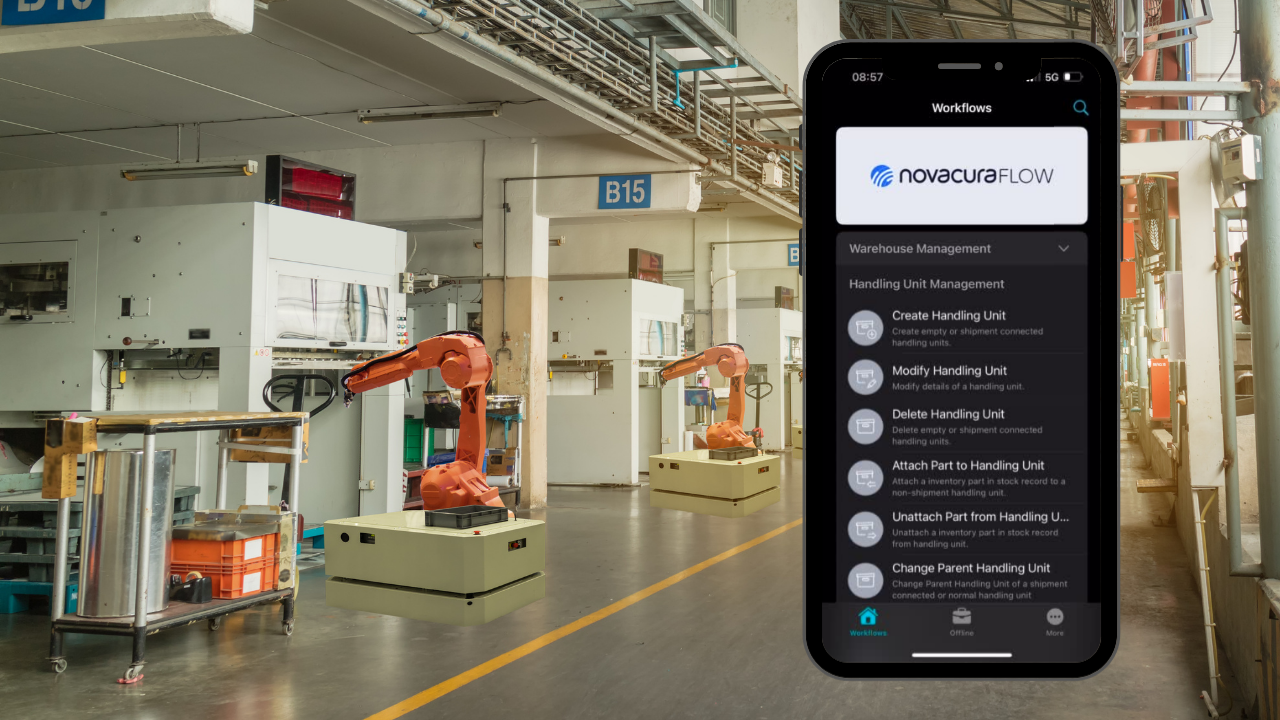 Modern manufacturing is a complex process requiring various components to be effectively integrated at multiple stages. Most of the domestic manufacturing, production, and processing plant equipment consists of electromechanical systems combined with programmable logic controllers (PLCs). This equipment helps provide an accurate overview of day-to-day operations on the shop floor but can also support other departments involved in the entire production process.
The patterns used by modern manufacturing have their dominant attention to all surrounding operations to increase production efficiency and results over time. At the same time, the plant's core manufacturing operations include well-organized internal logistics and distribution to continuously deliver raw materials to the production line and streamline shipping processes.
STREAMLINE MANUFACTURING PROCESSES WITH NOVACURA SOLUTION
Manufacturing companies that want to be the most efficient need to identify all possible methods to help them connect all operations and ensure mobile accessibility. This approach involves digitizing the business on many levels, including optimizing processes with increased ERP system capabilities. The most effective techniques for streamlining manufacturing and warehouse operations can be offered by software that will connect to the ERP system and allow flexible modifications anytime without involving expensive and time-consuming resources.
Novacura Flow is a software that provides a comprehensive solution for manufacturing and warehouse processes. The software is connected to the ERP system and allows users to build business applications. The resulting solution provides operations with the ability to improve existing processes continuously.
The example presented above explains how users can build own app with Novacura Flow, that gives its users access to Novacura Flow Studio, environment for developing applications for internal operational needs in manufacturing industry.  
WAREHOUSING SOLUTION FOR NOLATO GOTA
Nolato Gota is a Swedish company that offers comprehensive solutions for the automotive market and general industry. The company specializes in producing advanced plastic products with significant technical content. Their operations must comply with IATF and ISO certification to maintain the highest quality for their customers.
Nolato Gota is part of the Nolato Group, which already has more than 10 years of experience with Novacura Flow software. Nolato Gota has seen significant growth with Novacura Flow in various areas closely related to production, warehousing, and shipping. Facing a wide variety of challenges in their daily routine, they were able to take the milestones to improve their operations.
Novacura had the opportunity to speak with Jan Färén, IT Manager for Nolato Gota, and together we reflected on the positive impact of Novacura Flow on all of the company's operations.
                           An example the Novacura app on a mobile device.
Handling Unit functionality in ERP –

 the Nolato Gota process with creating handling units as reserved for shop orders before receipt and full tracking through the entire process from production to shipment would have required large and expensive customization to the standard ERP.
Start Setup/Production

 – start setup and production in IFS.

Label printing

– an automatic printout of pallet + box labels on work center printers (with Nicelabel).

Receipt of Shop Order

– receipt of shop order in IFS based on handling unit label.

Report Scrap/Close Shop Order

– report scrap and close shop order in IFS based on machine data.

Automatic ordering/refilling components to production

– demand planner in Flow based on production planning and machine run factor to ensure correct material levels at production departments.

Integrations

 – the manufacturing process in Novacura Flow integrates IFS with data reported by the machine but also integrates into the raw material supervision system and sends the correct recipe upon the start of a shop order.
Novacura Flow allows to build and implement mobile applications to support production and management of warehouses. Modify Handling Unit application allows the efficient relocations of stock items and streamlines system transactions by eliminating stock discrepancies. Employees can make real-time updates that are visible to all operational staff as the applications are connected to the ERP.
Barriers in the warehouse
Nolato Gota strived daily to improve quality circles, automation, just-in-time delivery, and more. They encountered problems in the following areas:
Warehouse relocation and system transactions

– the number of transactions performed by production was too large to be done in IFS alone. The complexity of all operations, such as tracking flagged pallets, took time to track, resulting in constant erroneous updates related to pallet relocation, etc.

Picking reporting

– operations teams noticed problems reporting collected parts for shipment, resulting in significant discrepancies and mixed orders.

Complex integration with external WMS

 – requirement to have a 2-way external WMS fully integrated with IFS.

Inventory counting

 – cycle counting could not be performed smoothly by operations teams, resulting in discrepancies and putting production at risk for unexpected material shortages.
Find Inventory is another example of an application from Novacura, that increase productivity during cycle counting, allow all data to be fetched and perform system updates. Operations are fully executed from mobile devices. Application can be connected with WMS to support all-around production operations. Learn more about WMS here.
SOLUTION FOR WAREHOUSE MANAGEMENT
Nolato Gota found a way to solve common problems that affected its manufacturing operations. Using Novacura's solution, they could create operational applications that could connect to the ERP system. In this way, they exceeded the ERP system's capabilities and integrated production with warehouse operations. Here are some of Nolato Gota's developments:
Standard Warehouse processes

– full support for arrival, incl. labels, move part, scrap part, counting, picking, etc.

Dispatch advise for consolidated shipment with EDI

 – create dispatch advice for multiple shipments (same truck), incl. control points on correct data based on the customer.
Create Handling Unit application from Novacura supports inbound and outbound operations, allowing items to be received, barcodes scanned and for support the labelling system. Employees can add new items and confirm all deliveries directly with data from the ERP system.
Integrations

– fully integrated external WMS connected to SO receipt and shipment picking in IFS and dispatch advice at consolidated shipment with EDI.

Shipping portal

 – the shipping and ordering portal provided by Novacura Flow has a more user-friendly interface and handles operations very frequently throughout the day, making it easier to manage shipments and improve traceability.
Novacura Flow gives us a tailor-made solution to fulfill customer demands in our supply chain.
Senior IT Manager, Nolato Gota
Nolato Gota increased its operational efficiency and gained greater control over its overall processes by implementing mobile solutions. Here are some of the key benefits with positive results for all operations:
Easy onboarding

– less need for system training and instructions compared to working directly in the ERP.

Reduced risk of administrative errors 

– with a guided process and control points, the risk of user errors is reduced.

Mobility

– all users in production and warehouses could run all processes and find necessary information directly on their mobile devices, less time spent on transit between office and production department or warehouse.

Accurate reporting

– with all users having the possibility to run all processes on their mobile, the reporting will be done upon the event instead of bulk reporting afterward.

Less time spent on administration

– with guided user flows, the number of steps and time to complete each task is drastically reduced.

Better shipment planning

 – improved shipping and tracking provided by the portal application with a user-friendly interface make shipping processes easier to follow.
Get app package Shop Floor Reporting
The shop floor reporting app provides a variety of manufacturing-related reporting possibilities for shop floor users. 
Barcode scanning & real-time media capturing and more!
Nolato Gota is one of the companies that have trusted Novacura solutions to improve operational efficiency. A success factor is a close collaboration between Nolato Gota and Novacura, on-site and via Teams. Together with our customers, we strive to constantly improve all processes.
At Novacura, there is no one-size-fits-all solution for improving operational processes. The diversity of industries is tremendous, and only software that is flexible as Novacura can answer current business needs. We have proven solutions implemented for years in various industries worldwide. We can help your company meet its ROI requirements based on our experience gathered over the years in multiple industries. Contact us today and see how much we can do for your company.