ERP implementation with mobile solutions from Novacura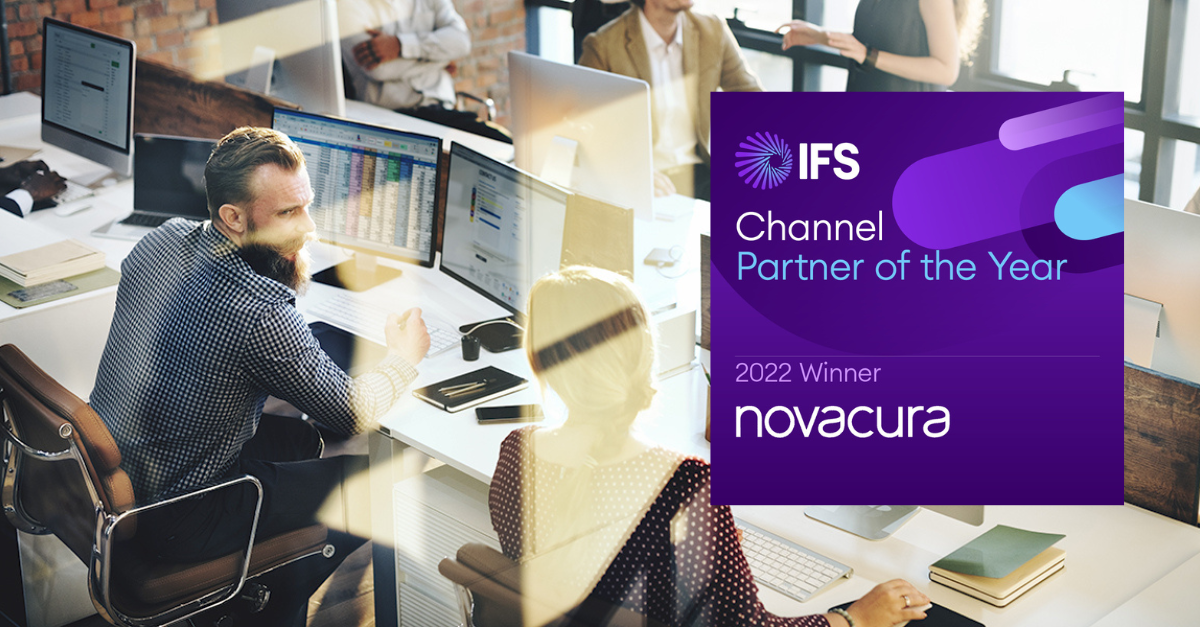 The main goal for any industry is to use the ERP system in a more productive way to be more competitive with other companies. Perform a successful ERP implementation and planning the right framework for the entire project can raise many questions as many industries requirements. The problem-free ERP implementation in an organization, requires more involvement from experts and other resources. Once an ERP system GO-LIVE may require more comprehensive support with mobile solutions that will directly improve all operations. Taking mobile control in operations will benefit industries from manufacturing, logistics, service and maintenance and others by making systems more productive.
How ERP implementations fail?
In most industries, any ERP implementation requires a commercial-off-the-shelf (COTS) deployment. The ERP must be well suited to meet operational needs, and improve business performance through better developed processes than its business competitors on the market.
Implementing an ERP system is a long-term project in which many things can go wrong. One example in an ERP failure reflects to the system's integration with manufacturing processes. During the ERP implementation, the company encountered serious problems with data retrieval. The system was supposed to process 40K operations in a certain amount of time, but the floating-points showed that it was actually only 20K. This calculation error has resulted in a very large modification, while the ERP system has not been yet fully implemented. The main cause in this particular scenario was a miscalculation of the system configuration required to complete the project within the scheduled timeframe.
After implementing the ERP system, the performance showed more gaps that could no longer be fixed in a short period of time. The company's employees were forced to conduct some operations in a very insufficient manner, using a manual methodology with typical printed documentation.
This could have been avoided from the very beginning if the company had been able to consider mobile solutions on its premises simultaneously implemented with ERP.
Here are the key factors that can result in failures during and after ERP implementation:
The lack of proper risk management strategy – initiating an on-site ERP implementation strategy and a migration plan from the existing system are the best practices in any project approach, but each step should be evaluated for risks to avoid costly delays
A wrong Statement of Work (SOW) – project procurement should be recognized as the integrity of any plan to keep business safe during and after implementation and when determining ROI results.
An incomplete artifact library and documentation list – a wrongly mapped business case and incomplete roadmap without incorporated scope management plan and an incomplete user service level agreement (SLA) can affect the final project results.
The faulty Readiness Test – a lack of properly conducted simulations can result in failure of ERP capabilitiy assessment before GO-LIVE stage, which may affect even a very robust functional specification.
The lack of mobile solutions – no mobile devices deployed on premises with ERP may bring higer business expenses and affect operational performance after implementation.
Why ERP implementations fail? 
Set the ERP implementation team
Create an effective change management plan
Communicate with diverse groups
How to avoid implementation failures?
ERP implementation requires a well-prepared framework and a number of elements that can bring the project to a successful execution. We can outline important project dependencies that can be included to guide the collaboration between the various departments and teams involved. Here are the project dependencies:
The validation of technical parameters – evaluation in terms of service level agreement (SLA) and consideration of hardware and software requirements along with post-release system maintenance.
Assessing business conditions – implementing a configuration management (CM) plan to assess the preconditions of the entire project and to determine the status of the project with key elements such as mobile solutions for various operations within the planned timeframe.
Designing the project network – proper determining the involvement of internal units and resources that may participate during the project, is a part of risk management that may disrupt the project.
Extend ERP capabilities with Novacura Flow
The ERP implementation model can vary being strictly dependent on the business profile and industry requirements. After implementing an ERP system successfully, it will still not be able to cover expanded industry requirements that are constantly changing in a very dynamic business environment. It is worth to say that ERP modifications at this point are very expensive and time-consuming. To avoid modifications and keep the ERP system evergreen, a company can consider using low-code technology that allows for the development of customizable applications integrated with ERP
The example presented above illustrates the implementation of IFS ERP system with Novacura Flow (Novacura – dark blue elements).
Initiation – Novacura uses the IFS methodology to introduce an ERP system with the most frequently used modules dedicated to project management, maintenance, finance, procurement and inventory, HR, etc. At this point, the ERP can be installed from new or evaluated for upgrades.
Confirm Prototype – Novacura introduces its mobile solutions for internal use in synergy with IFS.
Establish – adapt Novacura Flow to the business environment and test the application's performance with IFS. Users can project and build own mobile applications.
Implement – perform appropriate simulations, tests and validations for expected results.
Go Live – launch Novacura Flow in synergy with the IFS ERP system.
Novacura is implementing ERP systems and give an access its users to the Novacura Flow Next-Generations low-code platform. Novacura Flow allows its users to build desktop and mobile applications for various devices full integrated within the ERP system.
The example presented above explains how users can build own app with Novacura Flow, that gives its users access to Novacura Flow Studio, environment for developing applications for internal operational needs in every industry. 
Benefits of IFS implementation with Novacura Flow
Novacura Flow and IFS can offer to the business many benefits. Here are some of those that have crucial impact for entire process during and after implementation:
Cost reduction and ROI – Novacura provides full support for IFS + Novacura Flow implementation, so there is no need to contract additional services. Novacura helps save overall costs in continuous business improvement process and supports ROI results.
Evergreen ERP – customers can avoid deep modifications to the ERP system, which helps keeping its capabilities in a better state. All operational modifications can be made in the Novacura Flow environment with the new operational solutions that are required by the business (ERP cannot be affected).
Easy integration – Novacura provides dedicated connectors that allow seamless integration with Novacura Flow applications and ERP system. This allows for easy data exchange between systems.
Mobile solutions – Novacura Flow enables its users to work on a variety of devices from desktop computers to handheld scanners and cell phones. Thus increasing the range of operational capabilities.
Fulfilment of the most specific requirements – Novacura Flow layer added to IFS, can broadly expand the functional and technological capabilities offered by the entire solution.
Less staff trainings requirements – the Novacura Flow platform is easy to use and does not require skilled programming staff to build a working application. The platform also allows for building applications with a very clear interface, making it easy for less computer savvy employees.
Professional support – Novacura's experts have a broad experience gained from years of direct work with IFS. Novacura's experts understand the requirements of the industry and can provide the best-fit solution for the company.
Synergy between IFS and Novacura Flow services allow to extend business capabilities. Novacura implement IFS ERP system integrated with Novacura Flow mobile solutions. Our methodology is mature and efficient (time-wise and cost-wise). 
See our customer cases from around the world where we have implemented IFS and successfully helped our customers to increase their operational capacity with mobility within Novacura Flow. Contact us today and see more about how we can improve your business operations. See our IFS ERP implementation services here.