How to choose a Warehouse Management System?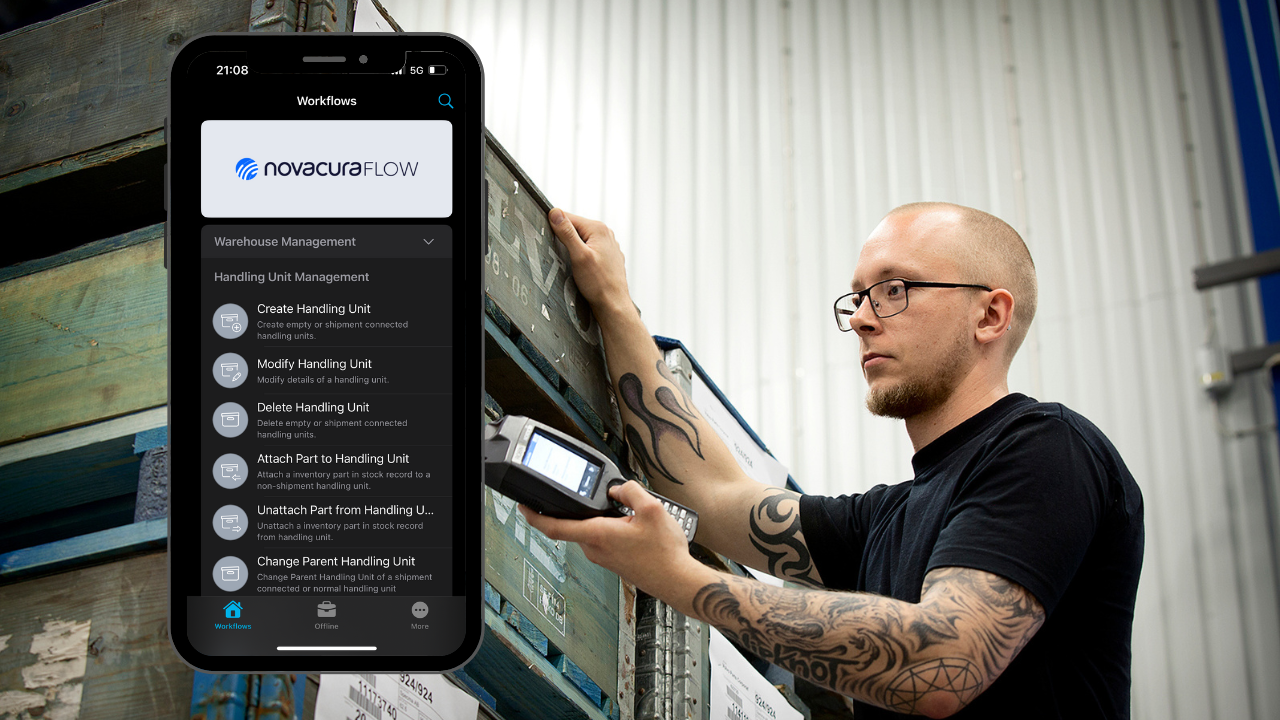 WMSs include a variety of functions designed to support more advanced warehouse operations. These cover such tasks as receiving/unloading, inspection, inventory control, storage, packing, and shipping/loading. To keep better control over ongoing operations, WMS should reduce this complexity, integrate different technologies, and ensure that the solutions are compatible with existing systems and are returnable in terms of improved performance. WMS software can be connected as a separate module to the ERP system, giving extra operability to the warehouse with new systems transactions that are missing in ERP.  
What to look for in warehouse management system software?
Looking through the personnel and task allocation clearly shows that intelligent redistribution of roles in different departments is key to keeping efficient business operability. Personnel activities should be aligned with equipment and inventory management requirements. Here are the tips that are important for procurement and help estimate what to look for in WMS and why:
Inventory management system – warehouse should have a clear overview regarding size, design, and desired physical movement and allocations of products with inventory transactions. Whether it comes to medical goods, the clerk should know that they may keep medical or dangerous goods out of the fridge only within a restricted time frame until it will not be loaded onto trucks with cooling. Product life cycle as FMCG or racking system, what goods can be placed next to one another and how to pick orders fastest should be an accessible solution from the WMS system.
Maintenance system – machines and equipment require constant maintenance to prevent machine malfunctions and downtime in production as well as avoid delays with shipments or unloading consignments once EPT or forklift is out of order. Control over maintenance is required to eliminate losing goods to damage caused in the broken fridge when the company is storing FMCG. WMS should have features that allow keeping control over equipment conditions. 
Tasks and roles redistribution system – diversity of operations required a clear system for task management and the ability to smooth switching between roles in the warehouse. For instance, very often clerks responsible for inbound can often take tasks off the system receiving and putaway or even forklift tasks. As multiple roles can be assigned to a single person, this approach requires a clear task overview to operate on a high level and provide effective performance. There is also an interconnected job related to the admin clerk responsible for supply chain management, like ETA tracking, sending EDI to carriers, and controlling shipping documents. They might also need to switch between various positions from system dispatcher, invoice controlling, and preparing reports. Therefore their work requires easy-to-follow procedures and systems to work with.
Low training requirements – manufacturers and warehouses often suffer the consequences of major personnel changes, and changes among warehouse clerks and even admin clerks are very common. Therefore, companies need short training times and simple structures to quickly follow up when implementing daily tasks. Management needs to have insight to operational aspects accessible from the remote place as a desktop or mobile device to get an update regarding progress on ongoing operations and KPIs.
Automation and mobility – modern companies should be automated as much as possible with systems integrated with internal and external operations and ERP systems as central sources of data collection and exchange. The company should provide mobile access to operational employees to support their remote operations to increase control over ongoing processes. The operational clerk should know how to pick orders in the fastest way, and they should have the built-in solution from the WMS system.
What are the main elements of a WMS?
WMS software should provide the following functionalities for the warehouse.
Flexibility – is needed to meet changing warehousing requirements; software should have built-in functionalities allowing its users to implement fast system improvements as new system transactions, etc. 
Inventory management system – should provide efficient space management, efficient handling of commodities, economical storage that complies with inventory requirements, and helps arrange warehouse layout. 
Automatization and mobile access – data for reporting should be collected sufficiently in real-time from mobile devices. Order picking, shipping confirmation, POD checks, inventory cycle counting, etc., should be performed remotely from mobile devices.
Supply chain support – admin clerk should be able to send EDI to carriers once the warehouse confirms loading. They should have constant tracking and updates on desktops regarding shipment progress, ETA, and deliveries. 
Planning, scheduling, reporting – collecting data from all departments, scheduling personnel, planning daily activities, retrieving data, and providing feed for reports and KPIs with flow charts/diagrams, etc., to managers to help the business estimate working hours, cubic meters of shipments, and costs.
Maintenance system – clerk should be able to control the equipment life cycle and perform maintenance from mobile devices. This feature gives the ability to keep track of current events and improve forecasting with measured downtime. 
Deep ERP integration – all operations as supply chain support, inventory management system, Planning, scheduling, reporting and mobile operations, and maintenance system, should be integrated with ERP, and interrelated systems should provide a centralized overview.
Deep ERP integration allows you to connect all your systems to the Novacura Flow layer on to of the ERP (read more here).
User-friendly interface – clerks should have easy-to-follow access to software from mobile and desktop devices that allow them to perform all operations fast and without confusion. Therefore the application interface should be clear and easy to follow with instinctive. 
Novacura Flow apps are available on all devices, from mobile to desktop.
Novacura provides a software solution Novacura Flow, that is able to implement all the above features required in WMS software connected to ERP system. Within Novacura Flow, users get access to the system environment, which allows them to build their own mobile and desktop applications that support daily operations in various areas of warehousing, manufacturing, and supply chain. 
Top important things for WMS software to have.
Particular WMS software should include functionalities that allow for inventory controlling, easy stock management, order estimation, and support shipping requirements. These functionalities are linked to the top important build functions for WMS. It is important to know that WMS don't have to work with its own servers. The solution provided by Novacura Flow offers the possibility to connect with the ERP system and exceed its functionality with on-top-build WMS features that will integrate all-over operations in the warehouse and supply chain. Here below are the functionalities that Novacura Flow offers for WMS:
Material handling system – support for the internal unit movement for all operations such as order picking (with barcode scanners and picking path estimation system), cycle counting, and put away, with information flow provided to ERP systems about all transactions and material allocations. The system provides clear instructions for storage methods and supports racking and shelving with Planning.
Supply chain system – support shipping EDI carrier system that is linked with vendors and customers (shipment track & trace), including volume planning, reporting, and estimation for material usage as pallets, containers (with returnable packing system) dedicated for shipping, as well as equipment required to do the assigned work. 
Automatization and mobile access – employees are able to use Novacura Flow platform to build their own operational applications and use them on mobile devices such as barcode scanners or desktops. Therefore all processes are automatized and allow for remote work as data collection as well as for data extraction with built-in functionalities for reporting.
Maintenance system – applications from build in Novacura Flow can include different functions regarding internal business requirements. Therefore employees can use them to keep service and maintenance for warehouse facilities, technical installations, and equipment.
Flexibility – Novacura Flow platform allows create an application without the limit for the operational transaction through the user interface implemented in applications.

Users can design their own mobile applications and project BPM solutions.
Novacura Flow connected to EPR offers full operability with existing systems.
Deep ERP integration –Novacura Flow can integrate with ERP system with build on top muddles as mobile and desktop applications. These allow for constant and stable data exchange with ERP, providing that way effective operability on floor and real-time tracking for all operations.
Deep ERP integration with Novacura Flow does not destruct existing processes in EPR, but works as an extension of ERP with WMS functionality.
WMS software solutions should best fit the business's current needs and facilitate the exploitation of future opportunities. Accordingly, the solution provider's commitment has to last for the solution's whole lifecycle to support the technology's utilization over time and protect the investment. That clearly communicates, that procurement cannot consider WMS as a one size-fit solution but should provide the possibility for modification according to ongoing changes. That way, a company can secure against future expenses and is able to estimate ROI. 
MAXON
Read more about Novacura Flow and WMS functionality implemented in one of our
customer's warehouses. See how to streamline your operations with mobile solutions.

Novacura Flow is a solution that has been implemented worldwide for almost two decades. We provide customized software that can be implemented as WMS and connected to the ERP system. That's the way we offer our customers complete integrity with their existing systems and operational processes. Find out more about successful implementation across different industries, and contact us today. Improve your business with us.