Novacura visited the Transport Logistics fair in Munich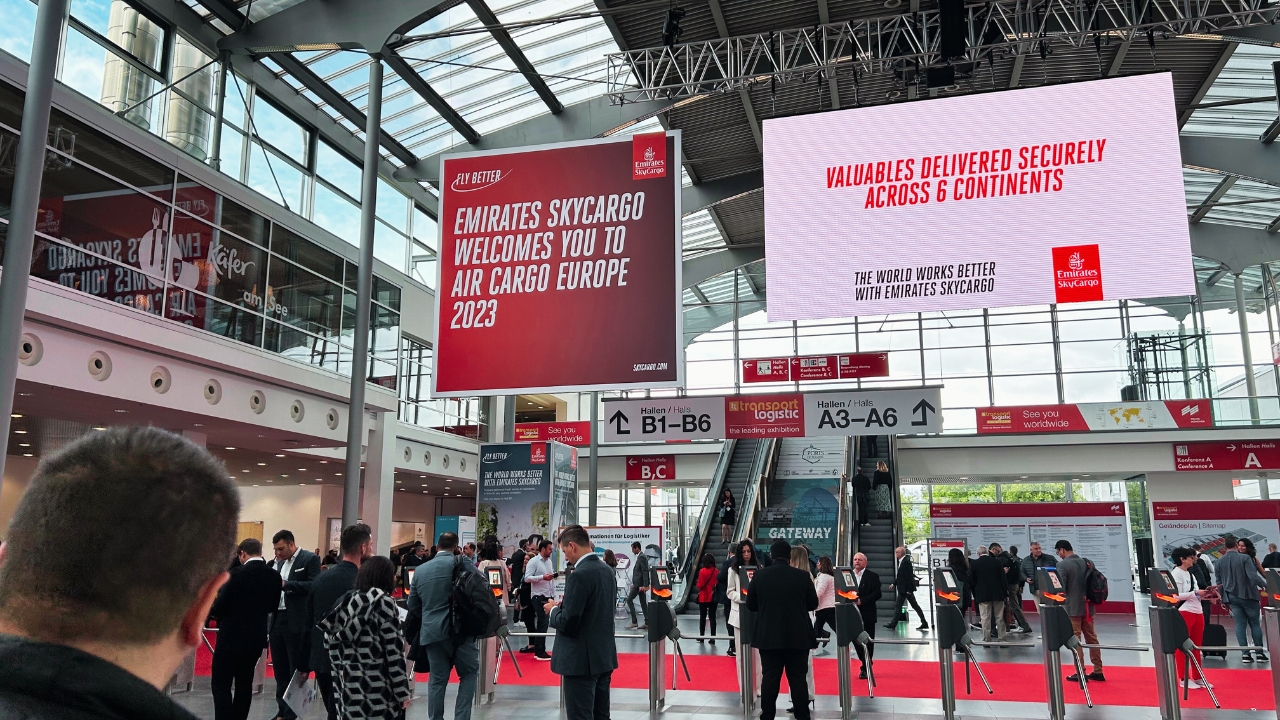 International Exhibition for Logistics, mobility, IT, and supply chain management
May 9–12, 2023 | Trade Fair Center Messe München
The Transport Logistics fair has been around for more than 30 years. The event is held every two years, and it has been held for many years at the Messe München Trade Fair Centre in Munich, Germany. The fair attracts the most significant companies from all over the world related to logistics, mobility, IT, and supply chain management. 
This year's edition took place from 9-12 May 2023 and attracted 2,300 companies from 67 countries around the world. The venue was divided into 10 sections where visitors could learn about the latest trends and developments in the air freight, logistics, distribution, technology, and IT industries. Special attention was given to software solutions dedicated to warehouse and distribution management, logistics, and transportation. One area was strictly dedicated to software for the logistics and warehousing industry, where mobile solutions offered by various companies were very visible. 
Exhibitors from a variety of companies representing different sectors in freight forwarding promoted their logistics services in a very effective way.
Trends and business needs in logistics and distribution
Novacura had the opportunity to visit the event in Munich and take a closer look at current trends and business needs among logistics and distribution companies. One of the continuing trends in logistics is closely related to increasing digitalization, where it intersects with the requirements of logistics and distribution resulting from relatively unchanged business processes. Two crucial elements emerged during the event in which innovation was clearly driven by the need for continuous improvement:
Warehouse operations and inventory – internal warehouse operations from picking, packing, barcode scanning, stock control, internal movements, and many other processes imply various operational problems that create immediate business opportunities for software development. In this case, digital systems become more comprehensive to cover all logistics requirements with more attention to micro-management of all activities. Software is becoming crucial for operational management in modern warehouses. Using the WMS as an example, there was a trend towards breaking down WMS functionality, creating smaller system functionalities based on single warehouse processes, and offered as a single solution. 
Suppliers of barcode scanners were very visible on site, as their equipment is crucial to the correct functioning of today's warehouse.
Transport – freight forwarding and transportation of goods, from air freight to ground transport using truck trailers, are all likely to be coordinated by efficient TMS systems. Innovation for transport is evident in the development of TMS systems, which are becoming more comprehensive in terms of fleet management, driver time planning, etc. Companies are now paying more attention to previously neglected areas, as margins are tighter today, and no company should allow itself to have uncontrolled capital outflows.
Many companies presented new mobile systems dedicated to transport, such as crew management (for truck drivers and booking working hours) and a shipment tracking system. These are also solutions provided by Novacura.
We can say that German companies such as DHL, Lufthansa Cargo, and DASHER have left a strong footprint on the fair, and are excellent at providing logistics services. These companies have always focused on innovation and streamlining their daily operations with digital solutions. Other companies presented a similar approach at the event comes from the US market and from countries in the Far East like Saudi Arabia and Turkey. In last two mentioned countries, there is a clear desire to grow in international markets and move towards a global economy.
Many exhibitors has arranged meeting areas (photo shows the DASHER booth).
Mobility with the Low-code technology
At the fair, there was a lot of interest in mobility, the importance of which has increased dramatically over recent years. Companies in the logistics and distribution industry now understand much better how important the implementation of mobile solutions in their operations will be for their economic well-being in the future. Whether it is a logistician with hand of manual tasks in the warehouse, a truck driver on the way to unload shipment, or an administrator in the control tower working closely with the transport coordinator, in each exception, personnel will need access to mobile devices equipped with software, that allows data collection and exchange with the primary system, which in many cases will be the ERP. Mobility implemented in business operations helps companies to maintain the highest quality of service and to be cost-effective. Employees can exchange data remotely, providing output for forecasting and real-time tracking and follow-up of the activities.
The Novacura Flow mobile app's can be used on any mobile device on the market as tablets that were presented at the Munich trade fair.
Novacura provides Novacura Flow, a low-code-based software dedicated to the transport and logistics industry. Novacura Flow users are able, without high programming skills, to build personalized applications that can be deployed in a matter of hours on both desktop and mobile devices. Applications developed for mobile devices can include any number of system transactions to help maintain maximum efficiency to meet all business requirements (whether digital POD, invoicing, B2B portals, WMS solution, barcode scanning, etc.) Novacura Flow operates as a layer to the ERP system and is fully integrated, so mobile applications used by operational personnel are deeply integrated with the ERP database. 
Mobile apps dedicated to logistics and transportation can be built in minutes and deployed immediately in work environments. App's are connected with ERP. To make the development process easier, Novacura makes ready-made applications available for download from its Marketplace.
Few of the many software suppliers at the Munich fair could provide a mobile solution for logistics and warehousing comparable to that offered by Novacura Flow. These companies presented mobile applications, but this required customization on the part of the software developers, which is a very costly approach for business modifications. The situation in global markets shows that low-code technology has excellent potential for many companies that want to save money and avoid costly system modifications.
Low-code technology has been implemented in many companies for over a decade. Many companies at the fair increased their awareness of low-code technology, which is far more suitable for today's business developments, which require rapid and cost-effective changes in increasingly unpredictable economic circumstances. Businesses need to be better prepared for unexpected economic changes that can cause massive damage to their operations. One answer to this need may be to consider the low-code platform provided by Novacura, which allows digital business processes to be built from the bottom up with mobile and desktop applications connected to an ERP system that helps support business operations in logistics and distribution. In this way, the company can maintain the continuous improvement trend and remain innovative. 
During the event, visitors were able to listen 250 experts in a series of sessions on logistics, IT and technology topics. 
We are delighted with our visit to Munich, which has always attracted many experts and companies from the world's leading economies under one roof. We look forward to the following events organized by the Messe München Trade Fair Centre in Munich, Germany.