Improving production at Land O'Frost with Novacura Flow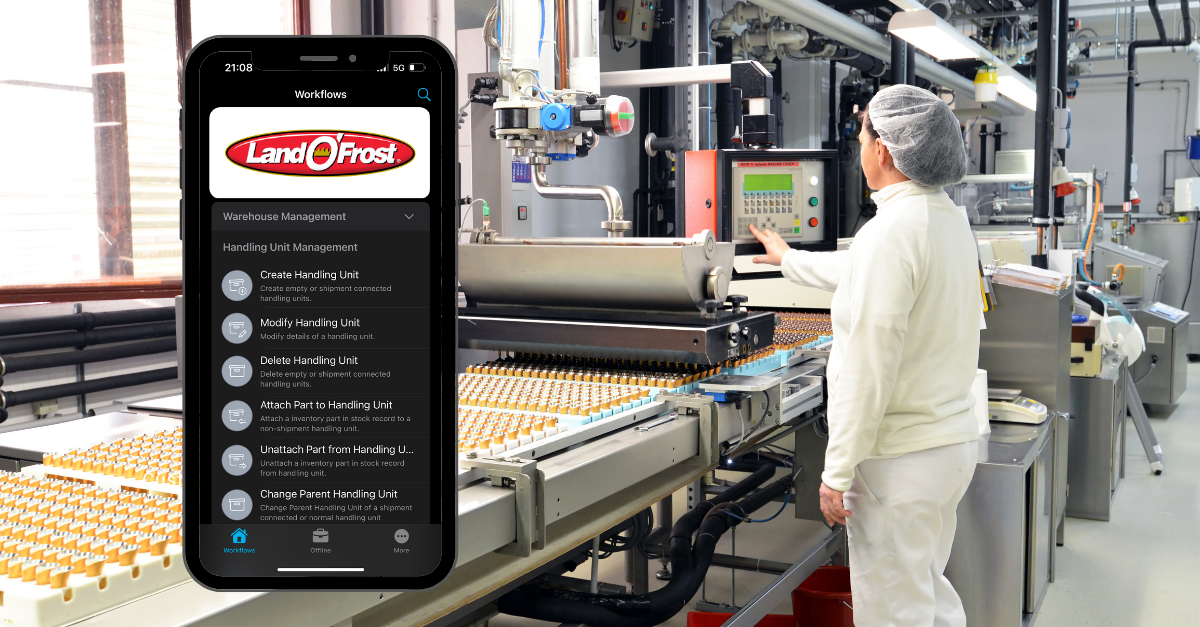 Land O'Frost has a rich history of innovation since its inception in 1941. The company was founded by Antoon Van Eekeren, who identified a key business need- refrigerated storage space- in the southside of Chicago. Over the years, the business has evolved and adjusted to market needs. Today it is one of the largest deli meat distributors in the United States. 
When Land O'Frost came to Novacura, they were looking for a mobile solution to use with IFS Maintenance Module and potentially replace their production data collection solution originally built from Radley LCC. 
Operational challenges with the previous solution
Long waiting time – simple changes required weeks to months to implement (the SoW approval process caused delays up to 2 months).
System maintenance side costs – any change to the system was considered a customization that generated side expenses.
Lack of insight into own operations – changes in the system caused a new problem due to miscommunication between departments and 3rd party solution provider; fixing it meant once again going to through the complex change request process.
Lack of modification and scaling – pushing changes out to mobile devices was time-consuming as Land O'Frost has faced problems with integration across all facilities.
When Land O'Frost was using Radley to manage the mobile production transactions at their production facilities even a small issue would take months to resolve. The process to make a change began with a Statement of Work submitted to Radley, then both parties had to agree to the SoW, the Radley development team would make the changes, and then the new solution had to be downloaded and manually pushed to each device using Mobile Device Management software. 
Chris Wheeler, Manager of Enterprise Applications and Integration at Land O'Frost, recalled one of the more painful changes made to the Radley solution. The original SoW was missing a semi-colon which led to the developers misunderstanding the intended functionality. The mistake wasn't noticed until the solution had been published. In the end, Land O'Frost had to create a new SoW and go through the whole change process again. Land O'Frost ended up paying for a simple change twice. 
We wanted to keep costs down, and as we already went through several iterations of different transactions with Radley, we already felt the pain of having to write a Statement of Work (SoW) every time we wanted to change something. Getting that approved and after it was approved than, we moved to program SoW. Once it was programmed, we needed to sit down for the test. If I find any bugs, I have to go back to them and report them. They have to review the SoW. So, it wasn't just the costs from overall programming or costs of the change, but it was probably more in the prevailing costs of time and how long it took to make a change (…)
Manager Enterprise Applications and Integration at Land O'Frost
The whole reason for implementing Radley was to provide the production floor the ability to perform mobile transactions. The Radley solution was too expensive to maintain for production and would have additional development and maintenance costs to use for the maintenance department. As the company continued to innovate, it realized it needed a more flexible system. 
Highly Customizable – built a custom solution with Novacura, which could be accessed via desktop and mobile devices.
Click-to-solution – the custom application only displays relevant fields and information to the end user.
Easy scaling model across all facilities –  changes are easy to make and can be pushed to over 200 devices instantly across different locations.
A dynamic tool with unlimited options –  the solution expanded beyond maintenance and is now used by roughly 1/3 of employees in different departments.
When Chris reached out to Novacura, he explained the problems he had with the current solution. He then walked our team through the details of the maintenance process. In a few days, Chris, along with a couple of developers, Novacura, built a proof-of-concept mobile maintenance app that was a better fit for their needs. 
As time went on, the app was improved to give users more functionality and thus capture even more data. The current version offers users on the production floor an easy way to post transactions to their ERP. What once took 5 clicks and an RMB call can now be achieved on one screen with a single piece of data entered. Not only does this save time in day-to-day operations, but new users can be trained faster. This is crucial for a business like Land O'Frost, which is continuing to grow via acquisitions and new product lines. 
Novacura has been extremely beneficial for us. We use Novacura in all our plants, including headquarters, from a department standpoint, I mean for production. It goes all the way from receiving through shipping. All production floor areas use it. Obviously, our maintenance team is using it. We also use it for mobile expense reporting, so that really brings our HQ team into focus when they are traveling. As well as we use it for mobile purchase order authorizations. So, when people are traveling, they can get approval from their homes. They love that solution because they travel all the time (…)
Manager Enterprise Applications and Integration at Land O'Frost
After working with Novacura's consultants to build a few more applications, Chris began to build custom apps on his own. In the past year, they bought another production facility and transitioned it from a paper-and-pencil operation to Novacura Flow mobile applications. At the end of the training period, the managers came with a couple of suggestions for how the screen should look, and another piece of data they wanted to capture. Within minutes Chris was able to make and deploy the changes. Land O'Frost finally had a tool that could be customized at the same pace as they were innovating. 
Change on the fly – Novacura Flow Studio provides a platform for continuous innovation where users can modify and add new system transactions at any time.
Easy personnel training – the maintenance application made the interface simple for end users, what's streamline the processes, and lower time-consuming training.
No extra modification expenses – Novacura users inside Land O'Frost are able to build dozens of applications and can make changes in minutes without external support.
Deep ERP integration – applications made in Novacura Flow are available across all devices, desktops, and mobiles and are integrating ongoing business operations in different departments.
It gives users on the floor an easier way to transact within the ERP system. We talk in terms of the production of Click-to-solution. With Novacura customization ability, what would take you three clicks and a data entry point, and right mouse button, and two more clicks in IFS, I can bundle that together in Novacura API call. And achieve all of that with users on the same one screen with two pieces of information. Sometimes, it is just a single piece of information needed (...)
Manager Enterprise Applications and Integration at Land O'Frost
Nowadays, there aren't many places Novacura isn't used. Land O'Frost has built dozens of applications using Novacura Flow Studio. These applications process over 15000 transaction daily, 10000 of which involve printing a label. Labels are printed from mobile devices or from stationary printers depending on the business need. Every production facility uses the software, and the corporate team uses the expense reporting app. The CEO has said he loves the fact that he can remotely report and approve expenses from a smart device. 
An example of an application for registering travel expenses.
As a one-man development team Chris from Land O'Frost, loves that he can make changes on the fly, debug any issues, and publish to end users instantly. The next big project will be implementing Flow applications in their delivery fleet. 
Get app package Shop Floor Reporting
The shop floor reporting app provides a variety of manufacturing-related reporting possibilities for shop floor users. 
Barcode scanning & real-time media capturing and more!
Novacura provides business software for various industries in the US and European markets. We provide sustainable business solutions that allow companies to avoid ERP modifications in a state of evergreen strategy. Our customers can get a visible return on investment (ROI). Contact us today and see what we can do for your company.