Corporate News
Novacura is IFS Channel Partner of the Year 2022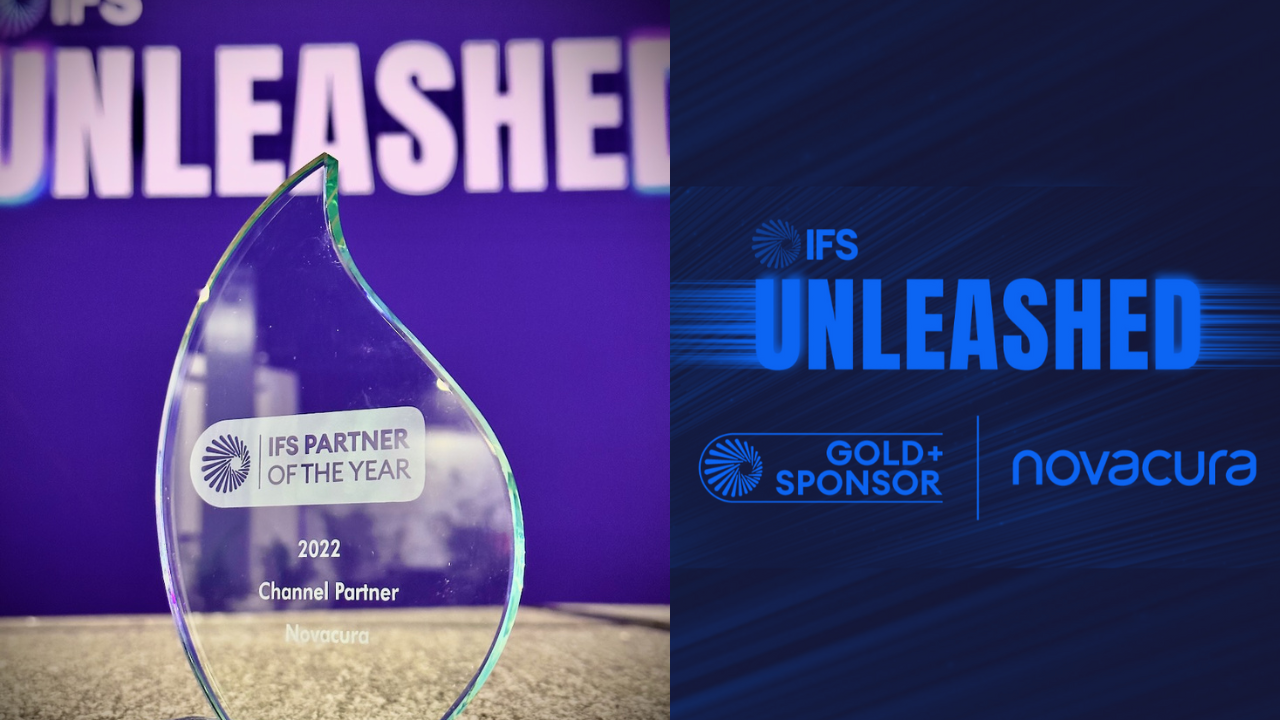 Miami, Florida, UNITED STATES, October 11, 2022
Novacura participated in the IFS Unleashed event held at the Miami Beach Convention Center (MBCC) from October 10-14, 2022.
At the very first day of the event IFS has announced the winners of its Partner of the Year Awards. Companies that have enhanced their partnership with IFS were awarded in twelve categories. IFS recognized its partners involved in the IFS Partner Program and honored them for their commitment to service to mutual customers and their experience in leveraging innovation to expand IFS solution capabilities. The awards reflect the excellent achievements of the IFS partner ecosystem and considers partners across all industries, countries, and market segments.
Novacura IFS Channel Partner of the Year 2017 and 2019
Novacura is already well known in the industry from the perspective of our long-standing partnership with IFS. In 2017 and 2019, we have proved our ability to provide high quality services, and we were awarded in the IFS Channel Partner category. We have brought significant value to many different industries and provided them with great services based on our partnership with IFS.
We have been able to provide our customers with the exceptional capabilities for many years. Our great product Novacura Flow provides the capabilities of a BPM platform with a flexible process layer to IFS ERP. Our customers can get the right business flexibility based on our low-code platform and what is more they can avoid ERP modifications.
IFS Channel Partner of the Year 2017 award for Novacura
Novacura is IFS Channel Partner of the Year 2022
In 2022, we proved once again that we are the right choice for customers in many industries. At the IFS Unleashed event in Miami, Novacura was awarded IFS Channel Partner of the Year 2022 for the third time.
IFS Channel Partner of the Year 2022 award for Novacura
Novacura eliminated from competition two other companies nominated by IFS in this category (NEC and InfoConsulting). The award was given to the best and trustworthy partner that has demonstrated exceptional efforts in the terms of new business development, thought leadership, and as well as products and services that promote IFS in emerging markets.
Official label for IFS Channel Partner of the Year 2022
We have proven once again that we know business processes best and understand the problems of industries in the recent years. This year's award was based on several criteria:
The Largest partner deal
An Increased number of certified consultants and sales personal
An Active co-marketing where IFS and Novacura collaborates
A New commitment from IFS and Novacura expressed in a new Channel Partner Agreement
Thank you to our customers
We know that our success would not be possible without the trust we have earned from our customers. We would like to thank all the customers who have trusted our services and have been able to count on our continuous support for many years. We will maintain our commitment at the highest level in the coming years, consistently providing the best services to our customers. We believe that our customers' satisfaction matters.