Corporate News
The new Novacura Flow WebClient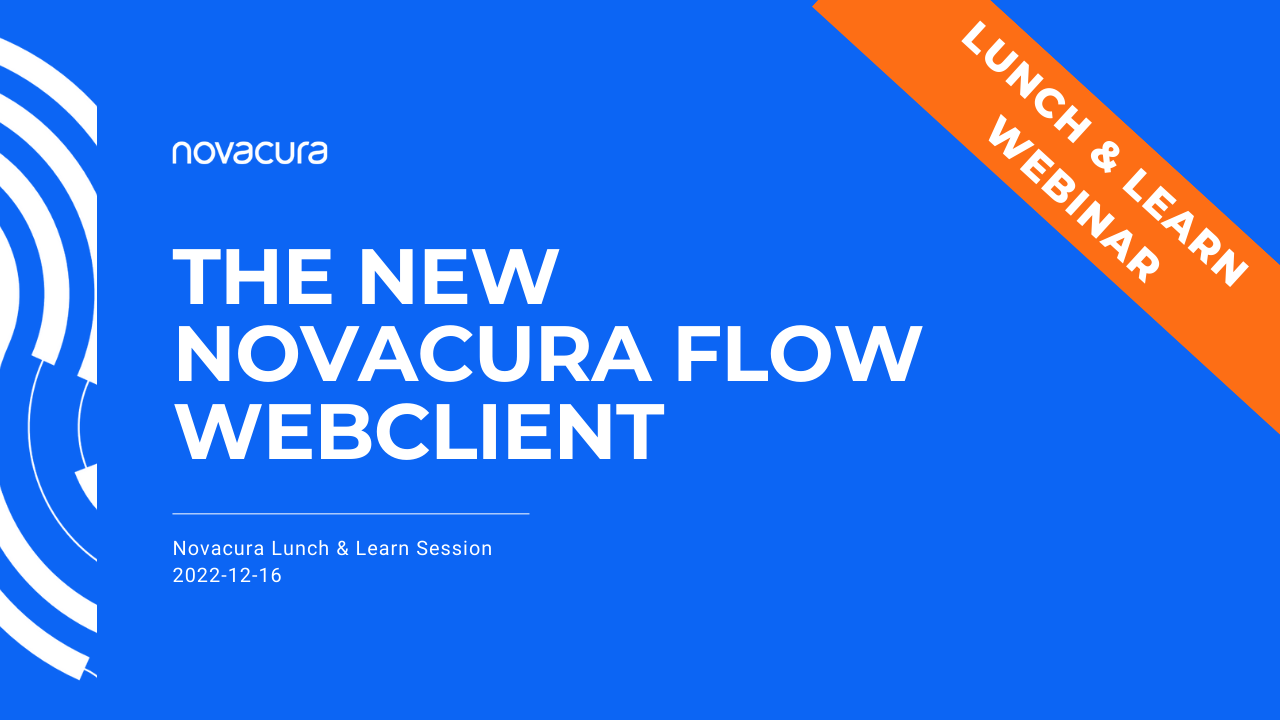 The rapid development and continuous evolution of mobile operating systems, and smart mobile devices (such as smartphones and tablets), have impacted companies through their increasingly important role in daily work and life. A company that wants to make ongoing data access and communications more convenient and standardized often needs to leverage some of the existing functionality of its software to improve user experience and operational capabilities. In many cases, application development focuses on the core application logic and UX instead of the details of data exchange and manipulation (even if both are provided as a standard).
Lunch & Learn session with Novacura experts
Novacura has already shown great power and potential as a modern mobile system that can be adapted to different operating systems and devices. Our developers are constantly keeping an eye on client application enhancements to ensure the highest performance for users. Users of the Novacura environment can immediately access many more and better features that may be available on competing systems.
16 Dec 2022 Novacura had the opportunity to host the 7th edition of the Lunch & Learn session. This session kicked off this year with the latest updates dedicated to our customers regarding lunch with the new WebClient. The session was led by our experts Paul Phillips, Product Manager; Malin Johansson, Product Owner; and Jennie Johansson, Customer Engagement Manager. During the session, attendees had the opportunity to learn more about our latest updates on New WebClient.
Continuous improvement process of the New WebClient
When the Novacura team made the decision to upgrade the technology of the WebClient's, several aspects were essential and played a crucial role in the entire development. This is a continuous improvement process, and not all of these goals will be achieved immediately, but Novacura is working to provide the following features in future versions of WebClients. Here are some of them:
Compatible with modern browsers and mobile devices – WebClient is able to scale due to its availability on most common devices, whether on tablets, desktops, or browsers.
Better integration with Portal Client – more seamless in the future without iframe technology.
One Platform – Similar UX/UI elements across all clients – implement a design that is easier for users of each platform to follow.
Use shared code base across all clients for more accessible support – Maintaining a joint code base to support new features is much easier than having multiple code bases for all of our different customers.
Decrease server load – reducing the load on the servers to increase efficiency because the more operations will be moved away from the servers, the more machines can run workflows, etc.
Comparison of old versus new (release 31 Jan 2023)
With new login screen, users can enter the server or pin and will be able to navigate by a specific path (an example of a New WebClient on the right side of the screen).
The home screen includes a menu on the left with improved navigation and new shortcut keys with search functions will be available (an example of a New WebClient on the right side of the screen).
New settings available: users will be able to add initial values as language changes, scanners settings, or grid row settings.
The new WebClient is scheduled for release on 31 Jan, 2023. Customers will be able to run web clients in parallel using both the old WebClient and testing the new one. In this way, no operational processes will be interrupted, and the business can remain in regular mode. This option will allow users to try out all the features in a secure environment and, at the same time, experience the new features provided by Novacura New WebClient. The old WebClient will expire on 31 Jan, 2024.
To learn more about Novacura's software features, visit our channels on see the latest Lunch & Learn sessions here.