Customer Story
SweMaint – Secure and traceable process with Novacura Flow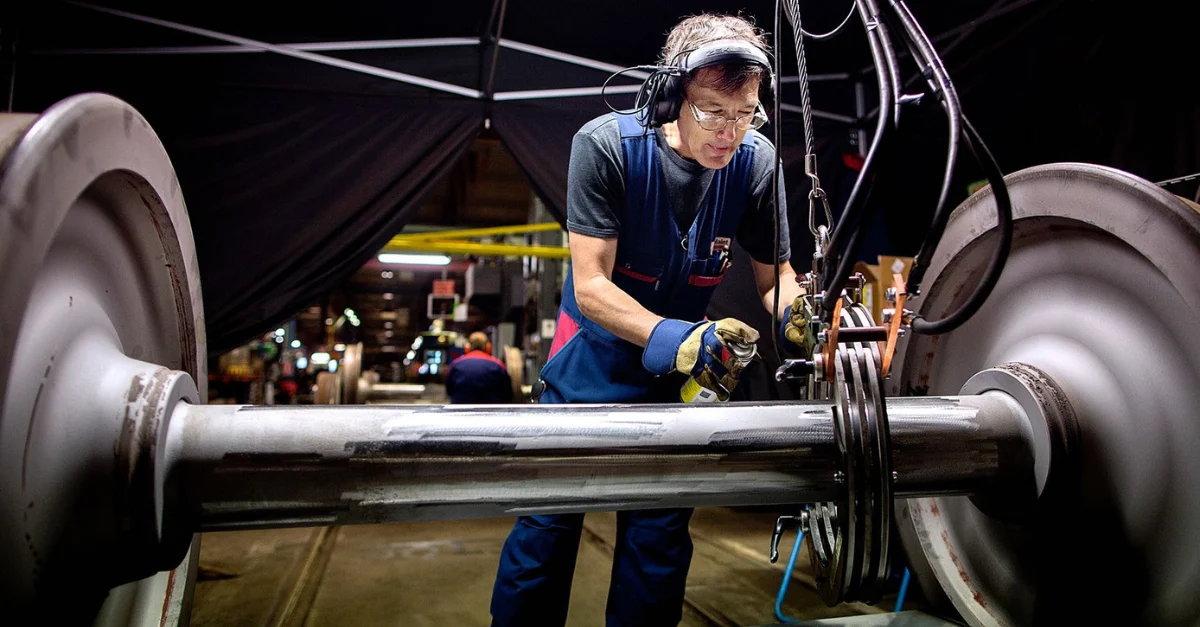 SweMaint is Northern Europe's leading company when it comes to repair and maintenance services for freight wagons.
Their range of services includes wheel maintenance, wheel supply programmes and materials supply. They have workshops in ten locations at major railway hubs in Sweden and at Drammen in Norway, as well as 30 mobile workshops. In total SweMaint has around 250 employees, of whom 41 work on wheel maintenance. The wheel maintenance workshop is located in Gothenburg.
We would like to present an interview with Kari Arbelius, Wheel Supply Manager at SweMaint. 
Why did you choose Novacura Flow?
New, stricter documentation requirements made it necessary to digitize our operations. SweMaint needed to create a process that was both simple to work with and minimized the scope for human error. Around 10,000 wheel sets pass through our workshop every year, and each has its own unique ID. All must be provided with detailed documentation of what we did with them, and they must be easy to trace and create reports on.
What is the new system like?
The SweMaint customers have differing requirements for maintenance of their wheels, depending on their own specific operations. In order to minimize the risk of accidents, it is incredibly important for these requirements to be followed to the letter. In short: there are certain things that must be done and documented. In total, they have 27 service stations in the workshop that all wheel sets pass through. However, not all wheel sets stop at all stations. This is governed by the system using barcodes. At each station, there is a barcode scanner that identifies the wheel set and confirms if work is to be done on this particular wheel set at this station. A touchscreen asks certain questions that must be answered before the wheel set can be sent on to the next station on the route. This means that they can never miss any maintenance points since the system does not allow the wheel set to skip any station on the route. SweMaint also uses cameras that take images of the wheel components at stations where the requirement for documentation is especially stringent. These images are sent into the system via Wi-Fi and are linked to the unique wheel set documentation.
How did you work before Novacura Flow?
The entire SweMaint documentation was created on paper, and done by our employees. Then the material was archived. Some data were also entered into Excel files.
What benefits do you see with the new solution?
More than anything, the risk of error has reduced considerably. The system does not allow maintenance points to be accidentally missed. Then, obviously, the paperwork has been reduced, which in itself also keeps the risk of error down. There is also far greater traceability of every single wheel set. It's easy to create reports and find the history for each wheel set.
What is the next step for you?
SweMaint would like to get the wheel sets into the system as soon as they come to us. As things are today, they are not registered until they are brought into the workshop. It would be good to integrate these two systems.
SweMaint has improved its day-to-day performance with Novacura´s solutions.
For us, this project for SweMaint's wheel workshop has been a really exciting challenge. As well as the fact that it has given us the opportunity to give SweMaint the support they need for their operations, it has also proved that Novacura Flow functions as a complete business system – based on the company's business processes, not simply as a layer on top of other business systems. We believe we will see more niche solutions like this with Flow in the future.
Novacura, Account Manager
We implement end-to-end mobile software solutions for a wide range of industries.
Contact us today