Product News
A new set of mobile apps for Infor M3 to improve warehouse operations
In a warehouse, especially recurring workflows need to be smooth and well organized to optimize the workforce's time and the utility of the warehouse space. Automating tasks and looped processes will reduce labor costs and lower the risk of errors if multiple people perform the same tasks.
The use of automation apps for stock and inventory can, among many other advantages, contribute to having an optimal and more efficient warehouse layout with lower costs.
We at Novacura are ongoingly introducing new ready-to-run apps for your ERP in our Marketplace. Since Infor M3 is a market where we want to grow our footprint further, we have an increasing library of apps dedicated to all Infor M3 users. We are happy to present a complete set of apps dedicated to managing a warehouse in a modern way. All our apps are fully mobile, so warehouse operations can be done very efficiently. Warehouse workers can use a barcode reader to scan processed items. 
All statuses of the operations performed in our mobile warehouse applications are sent to the ERP system and are immediately visible to the other ERP users.
Examples of useful apps for day-to-day operations and repeatable tasks currently in the Infor M3 library:
Quick inventory – Use the Quick Inventory app to update the stock balance for a single part

Goods receipt – Goods receipt for purchase orders or distribution orders

Stock movement – Move parts from between stock locations

Material requisition issue – A report issued material for manufacturing orders by using the Flow material requisition app

Create replenishment order– Monitor the requested replenishment orders and report the picking and delivery in Flow
With the use of Flow, you will maximize the usability of M3
Below we present screenshots from some of our warehouse applications for Infor M3: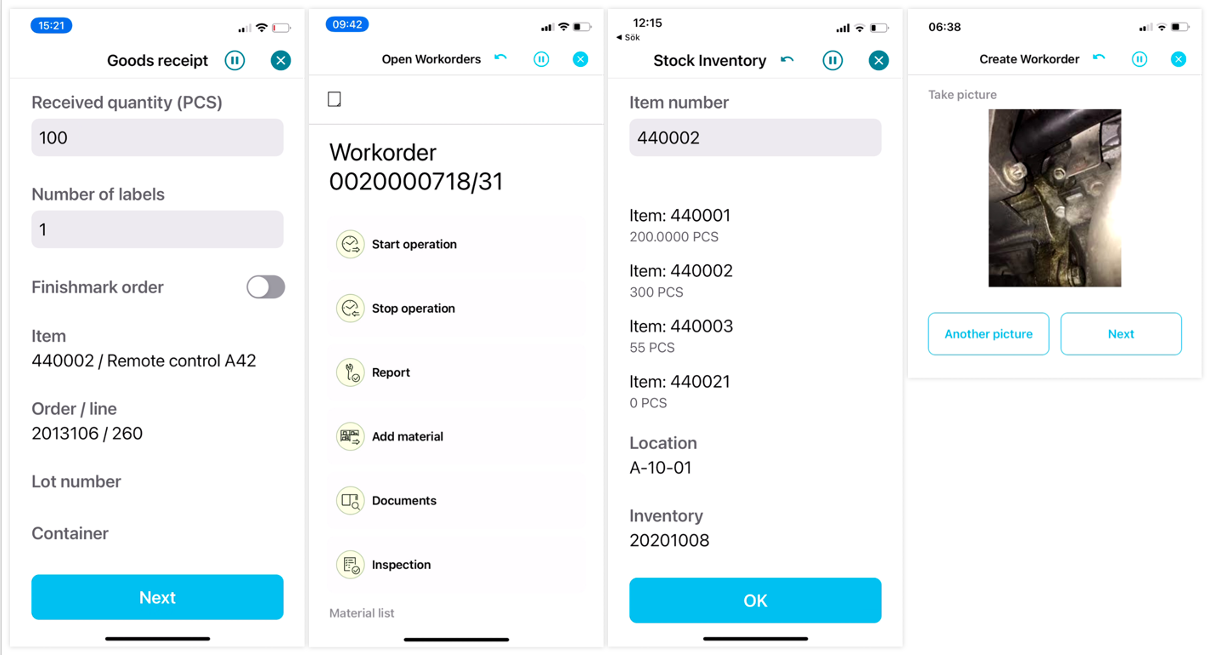 Novacura Flow for Infor M3 in short
Flow Warehouse Management makes your Infor M3 WMS or another business system more straightforward, more efficient and interactive. Flow can easily communicate with Infor M3/Movex by using a dedicated connector.
Novacura Flow acts as a bearing located on top of Infor M3. No application code needs to be written, and the functions can be run in various user interfaces such as mobile phones, tablets, computers or handheld terminals. Read more about it here.