ERP Guidebook
6 Ways To Reduce Downtime In Manufacturing
Downtime (especially unplanned) is a serious threat to any manufacturer. However, there are at least 6 proven ways which can help to deal with this issue and drastically improve operational efficiency. 
This illustration shows the key areas within manufacturing that all need to be touched in order to reduce downtime. We'll address them one by one below.
This illustration shows the key areas within manufacturing that all need to be touched in order to reduce downtime. We'll address them one by one below.
1. Optimize production execution
We recommend using a Mobile solution to really optimize production execution. And by using a Mobile Work Order app, Production staff and work center operators can improve downtime reporting and reduce downtime-related activities. Let's take a closer look at how.
Improve downtime reporting
A Mobile Work Order app improves downtime reporting by providing better analysis and improved decision-making enabling production staff on the shop floor to:
Check task priorities based on the latest production plan

View tasks details, including technical documentation, report operations (time/status) and used material

Report and track downtime in real-time

Measure spending on downtime activities (including idle time)
2. Limit downtime activities
The Mobile Work Orders app also helps work center operators save time and limit the scale of damages caused by inexperienced workers by allowing them to:
Request or order new tools or spare parts directly from the work center

Observe the progress of requested tools or parts in the app

Standardize maintenance tasks with guidelines for operations

Require users to complete a maintenance checklist
3. Production planning & maintenance
Real-time feeds from each department provide planners with an accurate view of the factory to help them react more quickly. In addition to being a dedicated work center for shop-floor operators, warehouse and quality control crews can also use a mobile app to:
Report activities

Pick materials and confirm delivery

Report deliveries from suppliers to display stock levels in real-time

Manage quality control to identify issues as soon as they arise 
4. Integrate planned maintenance into production plans
Manufacturers can minimize unnecessary downtime by planning scheduled maintenance in connection with production plans. By incorporating maintenance into production plans, planners can: 
Visualize all planned production and maintenance activities

Shift maintenance as-needed to cover production downtime

Limit disruptions caused by unexpected downtime
Manufacturing in the COVID-19 era
Top 3 challenges for manufacturers during the pandemic

What are the root causes of the challenges?

Proposed solution

How to implement it
5. Data collection, monitoring & communication
Dig deeper into areas 5 and 6 to take a closer look at data collection, monitoring and B2B communications. Capturing and consolidating data from different departments so that historical data and predictive analytics can be used to prevent issues before they arise. We want to highlight the importance of using B2B portals to provide instantaneous communication with suppliers and customers.
The key to manage is to measure
Production efficiency can be precisely measured to gather data from different departments, including the warehouse, shop floor, quality control, maintenance and more. This real-time insight helps managers to:
Measure the scale of downtime

Identify root causes through analysis

View all the information in one place

Receive objective feedback from real data (not people's declarations)
Prevent issues with predictive analytics
Connect machines or equipment using IoT connectors to constantly measure key parameters such as power consumption, vibrations, temperature and noise. This information can be gathered automatically in real-time to:
Provide historical data for analysis

Use AI (artificial intelligence) to provide predictive analytics

Automatically escalate issues if disquieting trends arise

Protect from future machinery damages and unexpected downtimes
With a digital solution that detects errors in production, there is a much bigger chance to fix the problem before the impact grows into a critical problem.
6. Instantly provide B2B communications
Improve production planning and overall production efficiency with direct, instant and precise communications to suppliers and customers. 
Suppliers
The B2B portal for suppliers can confirm purchase plans and deliveries online. Get immediate notifications of delivery changes or delays so that you can adjust production plans and set realistic expectations. 
Customers 
The B2B portal for customers helps predict and report customer demand in advance of purchases, preserving appropriate time for the entire supply chain.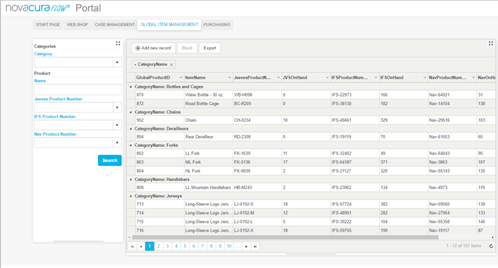 If you need help optimizing downtime prevention in production we can help out. We offer a low-code platform that is simpler to implement than an MES system. You can create tailor-made applications and connect them to your existing systems and can by that achieve a continuous improvement strategy.